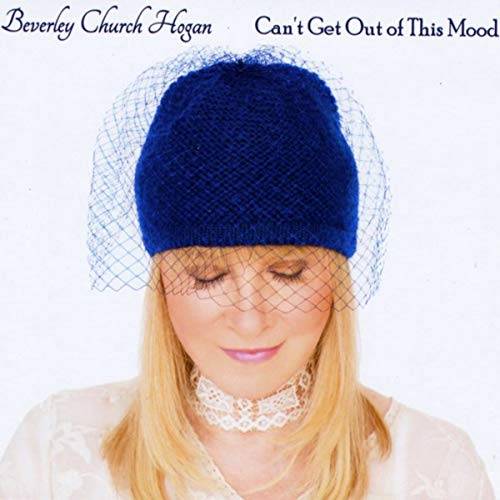 Beverley Church Hogan
Can't Get Out of This Mood
Café Pacific
The time-worn cliché of age is just a number seems more applicable recently as several artists in the jazz and blues genres are finding their way to recording studios as octogenarians. For vocalist Beverley Church Hogan, it's for the first time. A sixty year detour would dissuade most, but not Church Hogan, who put a promising career on hold, even rejecting a recording contract, in order to raise a family and be a businesswoman. In 2002 she was invited to sing at Hollywood's Catalina Jazz Club and the reception was so successful that her show has become a premiere event there. A dozen years later it was time to record this CD, Can't Get Out of This Mood at age 83.
The main driver is singer, pianist, recording artist, and Grammy-winning producer John Proulx who arranged and produced the project. He has been Church Hogan's accompanist for the past ten years, and has such, has developed a special synergy and chemistry with her. Proulx's stature in the LA jazz community enabled him to assemble a core group of top shelf session players including trumpet and flugelhornist Ron Stout, guitarist Graham Dechter, reedman Doug Webb, bassist Lyman Medeiros, drummer Clayton Cameron and percussionist Kevin Winard. Church Hogan also credits vocal producer Barbara Brighton, who has coached several Los Angeles vocalists.
Church Hogan is not formally trained. She has just loved jazz, listened closely and practiced intensely to further develop her natural musical instincts. She considers herself a storyteller and has built a reputation of possessing a strong ability to connect with an audience with her emotive delivery. For Church Hogan, it's not about flash or jaw-dropping vocal performance, it's about deep personal interpretation of the lyrics. It's subtler and more understated. Compared to most female jazz vocalists, she sings in a lower register, doesn't always have the classic, usual phrasing, yet delivers in a more direct, honest style with perfect pitch and articulation of the lyric.
In the liner notes, Thomas Cunnliffe relates this about Church Hogan's approach to singing, "I am singing for the person I sit beside. I want them to get the story I am telling, because I know that it's probably their story, too. I want to relate my deep inner feelings about the lyric, to allow my listeners to relate to past events in their lives and have a musical conversation with them. I believe that music is the sound of feelings, and I want my audience to feel that."
Along with Hogan, Proulx is also special in his delicate, smooth touch on the piano. Church Hogan spent considerable time selecting this group of songs because they relate to people and events in her own life. The Great American Songbook is well represented with Jimmy McHugh and Frank Loesser ("Can't Get Out of This Mood"), Rodgers and Hart ("Wait Till You See Him"), Matty Malneck and Gus Khan ("I'm Through With Love"), Kurt Weill and Ogden Nash ("Speak Low"), Sammy Kahn and Julie Styne ("Time After Time") and Bobby Troup ("You're Looking at Me"). Contemporary composers are present too with Chris Caswell ("(I Know You) By Heart'), rene Marie("Take My Breath Away"), Stephen Sondheim ("Losing My Mind"), and a song composed by Proulx with his writing partner K. Lawrence Dunham ('Stuck in a Dream").
As an example of how she renders a ballad, listen to "I'm Through With Love." She communicates the frustration in the conversational style of her delivery, but the warmth of her voice beckons a more promising future. On Sondheim's "Losing My Mind" Stout's flugelhorn helps build even more emotion into the tune, readying her for the dramatic interpretation of the final chorus. Her laconic take on "Time After Time" is different than most, buoyed by Webb's tender, quietly energetic tenor.
This is sophisticated, elegant music best appreciated free of distraction. You'll want to listen repeatedly to appreciate the many nuances. Beverley Church Hogan, now 84, wants to continue to sing into her nineties. Hopefully we won't be waiting too long for her next album.
[amazon_link asins='B07KWFYFMS,B07KWGKW6D,B07KWGBNGK,B07KWG1DNF,B07KWFXGRW,B07KWFX1C4,B07KWFN3QC,B07KWFMM17,B07KWFKY38′ template='ProductCarousel' store='maasc-20′ marketplace='US' link_id='485ef2bb-d428-4820-8d52-c836217a110c']