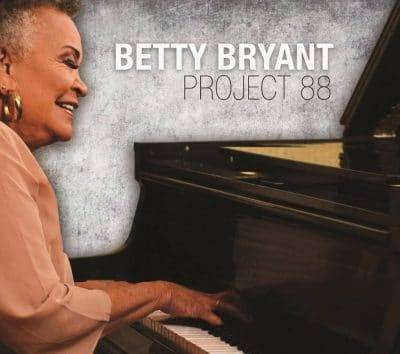 Betty Bryant
Project 88
Bry-Mar Music
Few listens are more enjoyable than hearing an 88-year old pianist play and sing the music she loves, the music she was raised on, and the music that invigorates her. This writer can hardly comprehend how someone can play piano at that age; typing is hard enough now. This is Bryant's ("Cool Miss B") ninth album as a leader, but her long and storied career as a composer, pianist and singer began as a child of the Depression at age four. Bryant dubbed the project "88" for the number of keys on the piano and her age. It's a mix of standards and originals.
Today Bryant is a mainstay of the Southern California jazz scene with the annual "Betty Bryant Birthday Bash" at Catalina Jazz Club a popular event. Her swinging bluesy style was developed in her home town of Kansas City under the mentorship of Jay McShann and others. She moved to the West Coast in 1956 and has been a fixture there ever since. Bryant also had an extended run in Brazil and spent 13 years commuting to Tokyo for gigging at its upscale Tableaux Lounge. She's also performed in Central America and the Mideast.
Producer, saxophonist and flutist Robert Kyle has been Bryant's friend for 30 years and has produced or co-produced most of her CDs. He too is a mainstay on the L.A. jazz scene who has worked with numerous luminaries in the jazz and pop genres. Kyle assembled top shelf musicians for this project, a special one for Bryant who usually performs solo, duo or in small trios or quartets.
Tom Gargano has played bass on all of Bryant's releases and plays on five tunes here. Kyle and Bryant wanted to create different sounds and styles, going for a more eclectic route. Hence, they switched around the rhythm section for certain tunes. Richard Simon plays bass on three and Hussain Jiffry electric bass on two. Three different drummers appear including James Gadson, Quentin Dennard Sr., and Kenny Elliott, with Brazilian percussionist Cassio Duarte. Renowned Brazilian guitarist Kleber Jorge appears on one selection. Kyle thrilled Bryant by bringing in a horn section featuring Tony Guerro on trumpet ( who also engineered), Ryan Dragon on trombone, Jeff Driskill on alto and Jay Mason on baritone sax.
The horn section enters on the opening Bryant original "Love Came & Went" while her bluesy, humorous, online ode to the infamous "Catfish Man" features Kyle's tenor. Horns grace "Just You, Just Me" from the '40s with Bryant trading verses with Gadson. "Lady Be Good, " in which Bryant takes a Count Basie-like solo, is in a trio setting with bassist Simon and drummer Elliott. They, along with Kyle on tenor, back one of her strongest vocals for the Burke/Van Heusen "But Beautiful."
"Ain't Nobody's Business" hearkens back to when she heard Jimmy Witherspoon sing it with Jay McShann in Kansas City. Bryant delivers a shimmering piano solo while Guerro's trumpet is especially soulful. This is one of the most authentic versions of this oft-covered tune you'll ever hear, clearly a standout track.
"Cho-Cho" changes it up as Bryant's co-written samba features the Brazilian Jorge on acoustic guitar with percussionist Duarte and Kyle on flute. Bryant surprises by sitting out on piano, choosing instead to let Gargano and Ellliot drive the rhythm while Guerro delivers another sparking trumpet solo in a swinging version of what is normally a ballad, "They Say It's Wonderful." Bryant closes with two originals: the romantic "My Beloved," rendered as a rumba with percussion and flute; and her usual set closer, "It's Hard to Say Goodbye," bringing in the full horn section once again.
Joy just oozes from this performance. Long live Betty Bryant!
[amazon_link asins='B07MSHYP4L,B07MQCJ6N7,B07MM3QMSS,B07MM3QKCF,B07MFX6HBW,B07MCB2VS1,B07MCB15JW,B07MC9ZTS2,B07M7M477T' template='ProductCarousel' store='maasc-20′ marketplace='US' link_id='016d1a28-368f-460c-93a9-672e79598a12′]