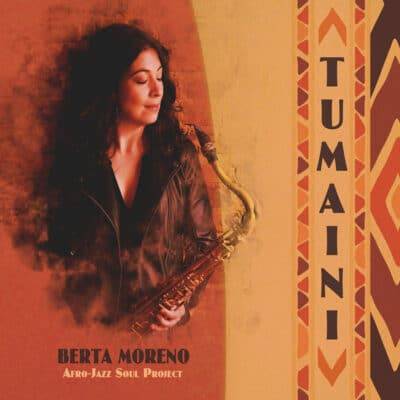 Berta Moreno Afro-Jazz Soul Project
Tumaini
Tiger Turn
Berta Moreno is a Madrid-born, New York -based saxophonist and composer who leads a sextet dubbed the Afro-Jazz Soul Project through the music of Kenya. Morena volunteered, working with children at the Little Ray of Hope School in the Kawangware region of that country several years ago and her experiences there inform this album. Tumaini is the follow-up to her highly acclaimed 2018 debut, Little Steps.
As the group name connotes, the music is a blend of traditional African music with soul and jazz, brought to fruition by a diverse group of players from Europe, South America, and the Caribbean. Bassist and co-producer Maksim Perepelica hails from Latvia, drummer and bandleader in his own right Raphaël Pannier joins from France, and percussionist Franco Pinna from Argentina. Pianist and keyboardist Manuel Valera from Cuba is especially prominent and sparking throughout as is vocalist Alana Sinkëy from Guinea-Bissau. Although these are likely unfamiliar names to many, the fact that the renowned Kabir Sehgal is the Executive Producer erases any possible skepticism about the worthiness on the project.
In one respect this like Moreno learning a new language which she infuses with music foundations in soul and jazz to deliver an uplifting experience. The sextet begins with "Karibu," with a flourish of percussion, the lovely voice of Sinkëy and a piece that keeps generating new and interesting rhythm patterns, delivered deftly by her rhythm team. She and Valera solo brightly above the percolating beats. "Afrika" introduces a four-person choir of which Moreno and Sinkëy make up half. The piece begins in enchanting style with Sinkëy's lead framed by those voices and the piano. Before it explodes into a joyous exchange of voices, the leader's soulful tenor, and the kind of groove we associate with Fela Kuti.
"Beauty of the Slum" echoes some of a Stevie Wonder vibe with Moreno again punctuating the piece with a bluesy solo. "Christine" features Moreno in a flowing solo with Valera comping vibrantly. "Dance" moves into Latin jazz exuberantly. While "Mandhari" (1 and II) return to the intriguing modular rhythm patterns of the opener, the centerpiece of the album is "Hope" and its intro section that begins in a mournful, mysterious way before blossoming into lighter and brighter harmonies, representing Moreno's journey, finding hope and kind human spirit among the people as she spent more time with them. This piece has her most eloquent tenor solo, very conversational in spirit, to which Valera responds with his shimmering statement. "Kutembea" is the most celebratory in tone of all, replete with some electric keyboards flourishes from Valera mixed with vocals, sax, and the steady percussion undercurrent.
As the leader, Moreno doesn't necessarily engage in the conventional head-solo-solo-head sequence of jazz. She picks her soloing moments carefully but even those tend to blend well with the group. As alluded to, she adds background vocals and often uses her sax to accompany the vocal melody, provide harmony parts, or delivered in layers to contribute to the sound palette. This uplifting music is not only a beautiful tribute to a region and its people; its joy is palpable. Let it wash over you.