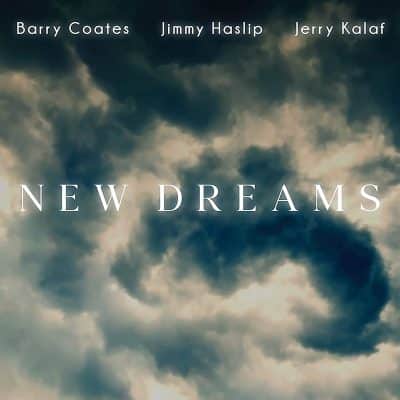 Barry Coates, Jimmy Haslip, & Jerry Kalaf
New Dreams
Outside in Music
New Dreams is a trio of kindred spirits exploring the cerebral, the explorative, and the ethereal as they highlight the collaborative compositions of Coates and Haslip, and in some cases, all three members. The most familiar name to most would be bassist Jimmy Haslip, for whom the term prolific doesn't even begin to explain his accomplishments. Haslip, a founding member of Yellowjackets where he was a member for 34 years, has produced over 190 recordings and appeared on over 400 records, not to mention his Grammy nominations, awards and others. Barry Coates, the guitarist and syn-guitarist has an impressive, mostly pop resume that includes the Pointer Sisters, Angela Bofill, John Klemmer and others in addition to hie eye-popping film work. Drummer Jerry Kalaf is squarely in the jazz mode, having worked with Eddie Harris, Gary Burton, Bill Mays, and many others.
The album opens on Coates' melodic soundscapes free flowing within Towner, not cited as an overt tribute to the guitarist of the same name but clearly echoing his music. The presence of the synth guitar invariably evokes Pat Metheny as well. "Transcendence" begins ethereally but gains momentum with Kalaf's drumming and, Coates' melodic runs and Haslip's changing dynamics. Coates sets the synth aside and delivers a comforting fingerpicking sound on "Faith" while Kalaf uses additional percussion and well-placed cymbal swells before Haslip digs in deep for his own poignant turn. "Swingset" is the closest we get to more traditional jazz mostly through Haslip and Kalaf, though non-conforming in its ambiance.
"Before" returns us to the spaciously emotive, layered synthesizer and guitar moods, colored with bright harmonics and undulating rhythms. The melodically picturesque "Mays," infused with synth-like fog and pure, resonating guitar notes breaking through as if splinters of light s remarkably calming and dare we say dreamlike, as if one took a lighter Weather Report offering and further synthed it up. This mood melts into the acoustic, textured "Sacred" before closing with vigorous drum rolls that open the progressive, hard charging "Retrograde," with Coates using all his tools and Haslip delivering his trademark soaring bass lines, to build a haunting, dramatic soundscape akin to a film score.
Turn out all the lights, get the room really dark and put this one on before going to bed. You will likely have one of your more interesting sleeps. Count on it.
Help Support Making a Scene
Your Support helps us pay for our server and allows us to continue to bring you the best coverage for the Indie Artists and the fans that Love them!
Make a one-time donation
Make a monthly donation
Make a yearly donation
Choose an amount
Or enter a custom amount
$
---
Your contribution is appreciated.
Your contribution is appreciated.
Your contribution is appreciated.
Donate
Donate monthly
Donate yearly
You can donate directly through Paypal!
Subscribe to Our Newsletter