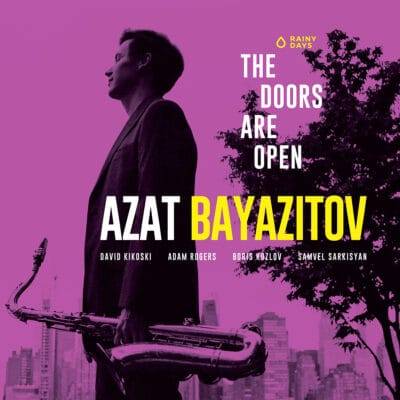 Azat Bayazitov
The Doors Are Open
Rainy Days
We have touted the merits of the St. Petersburg, Russia-based Rainy Days label more than once on these pages. They consistently bring us great jazz releases. The Doors Are Open is a quintet offering from tenor saxophonist Azat Bayazitov, the follow-up to his debut If You Still Trust. Bayazitov is a NYC-based musician playing with a multi-generational, multi-country crew that includes masterful veterans David Kikoski on piano and Fender Rhodes, Adam Rogers on guitar, and Boris Kozlov on bass. The new cat is 24-year-old drummer Samvel Sarkisyan. The quintet plays eight original compositions form Bayazitov. As per usual with the label, the great drummer and bandleader Sasha Mashin produces.
Bayazitov played in the world class Moscow Jazz Orchestra before relocating to NYC in 2017. Hence, the album title, as he found out, that unlike his homeland, one can go anywhere and do anything within borders, kind of like jazz where there is a loose composition that leaves plenty of room for improvisation within its constraints. This writer is continually in awe of how much talent these young players have. Bayazitoz makes his presence felt immediately on the opening "Magnet," a blistering track that features he and Kikoski in animated solos between grooves that alternate or lie in between funk and swing, capped by some ferocious drumming from Sarkisyan as the tune winds down. "The Huge Sky Of Kazan" is obviously an ode to his homeland rendered as an evocatively soulful ballad, with great tune and deep emotion, reflected as well in Rogers' guitar solo. The panoramic "Midwest Steam Locomotive" stems from Bayazitov's second U.S. tour with the Moscow Jazz Orchestra, when he experienced the landscapes of the American heartland — the Rocky Mountains in Colorado, the black hills and badlands of South Dakota, the flat farmland of Nebraska; all of which he found truly inspirational which colors his inspired playing on this piece.
The leader is the lone soloist on the autumnal "Long Fall." Jazz aficionados will recognize some of melodic statements which are inspired by Joe Henderson's interpretation of Gil Evans' classic "Miles Ahead" on the iconic 1990s release So Near, So Far. Buoyed and comforted by Kikoski's plush accompaniment on Fender Rhodes and Rogers' subdued chording, Bayazitov evokes a bittersweet aura of a cool veteran. The dreamy mood of that piece segues to a huge wake-up call with the pulsating, riveting "On The Other Side Of The Bridge," composed on his first trip to the States, Again both the leader and Rogers are in the forefront on melody and counter melody in beautiful tandem as Kikoski comps and the rhythm section percolates for the album's best of several great tracks.
Bayazitov points to Tatarstan music which has a pentatonic base and lots of grace notes that he likens to an Asian quality as the bluesy- gospel feeling that imbues "Midwest Steam Locomotive" and the more pensive "The Past," a nostalgic ballad mode love song for a girl Bayazitov knew during his teenage years. This one has a lyrical upright bass solo from Kozlov and some shimmering piano forays from Kikoski as well. The opening chords of the title track evoke the early Blue Note soul jazz era but is soon morphs into a simple, affirmative melody that modulates harmonically and metrically through the theme statement, before Bayazitov and Rogers navigate a two-chord structure during their eloquent conversation. Fittingly, the album ends with "Highway To The Dreams," another testament to the power of following your joy, a notion upon which drummer Sarkisyan (who is masterful throughout) signifies with ebullient, funky grooves as Kikoski's Rhodes and Rogers guitar provide a funky backdrop.
Bayazitov is a musician who plays across several genres, feeling that helps his overall vison. He just seemingly has music running through his veins and takes as many opportunities as he can get – rock, church, funk, Latin. This open-minded spirit and unbridled enthusiasm colors this truly uplifting album. Keep your eyes and ears tuned to Bayazitov. His confidence and expressive playing belie his youth.
– Jim Hynes
More about Azat Bayazitov
Born in Kazan, Azat Bayazitov studied violin from ages six to fourteen, at which point he then switched to classical saxophone studies in a local music academy. "Jazz came into my life and turned everything upside-down," he says. "Kazan is a big city but had almost nothing in jazz except a local big band playing Glenn Miller-styled sets. So, I checked out recordings first." Hearing a cassette of Joshua Redman's Spirit Of The Moment: Live At the Village Vanguard – which he describes as "still my favorite recording" – was a transitional moment, leading him to absorb and transcribe solos by Charlie Parker, Sonny Rollins, and John Coltrane. In 2006, Bayazitov entered Moscow's Gnesins Academy of Music, where he studied saxophone with Alexander Oseichuk. In 2013, Igor Butman began hiring Bayazitov as a sub in the Moscow Jazz Orchestra; by 2014 he was a full-time member. "We always worked," Bayazitov says, noting the band's frequent trips to the U.S. and collaborations with heavyweights like Terence Blanchard and Bob Mintzer. Also, in 2013, Bayazitov shared a bandstand for the first time at a jam session with Kikoski and Seamus Blake, after the collective group Opus Five played a concert in Moscow. "From Seamus' fat, loud, beautiful sound, I finally understood how the horn has to sound," he says.