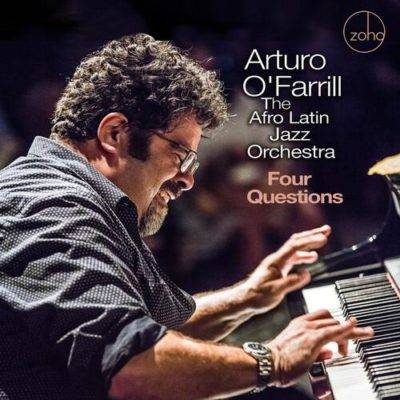 Arturo O'Farrill and The Afro Latin Jazz Orchestra
The Four Questions
ZOHO
Grammy Award-winning pianist/composer Arturo O'Farrill and the Afro Latin Jazz Orchestra's Four Questions marks O'Farrill's first album in his famed catalog to exclusively include all originally written compositions. Special guest Dr. Cornel West is featured as soloist, conductor, and percussionist on the title track. As the title may imply, O'Farrill is speaking out against injustice around the globe through his music. This piece of music premiered live in-concert at The Apollo Theater on May 21, 2016. O'Farrill's commissioned piece for the Apollo Theater as part of his MacDowell residency took the shape of Dr. Cornel West's speech at Town Hall (Seattle, WA: October 9, 2014) based on his book, Black Prophetic Fire. Four questions posed by the great African American civil rights activist and author W. E. B. Du Bois in his 1903 book, The Souls of Black Folk, are expounded upon by West while O'Farrill and his 18-piece orchestra add the fuel.
The four essential themes from Du Bois' seminal publication, include: What does integrity do in the face of adversity / oppression? What does honesty do in the face of lies / deception? What does decency do in the face of insult? How does virtue meet brute force? O'Farrill sees it this way, "We must pay tribute to the jazz greats like Coltrane, Holiday, Mingus, The Art Ensemble of Chicago, and carry on their legacy of bringing attention to the real issues of modern society through jazz music."
A modern-day prophet and stimulating orator, Dr. Cornel West, joins the renowned Afro Latin Jazz Orchestra to demand that we stand up to societal wrongs. O'Farrill notes, "Watching Dr. West speak is one of the sublime musical moments of my life. His oratory has the weight of a John Coltrane solo. His rhythmic delivery has the tumbao of Mongo Santamaría. The humor with which he injects his very serious messages floats like Charlie Parker in flight and, oh, most sacred of all, when he gets deliberate, each word has the authenticity and Afrocentricity of Thelonious Monk's right hand." As you listen to this piece, it's instantly clear that O'Farrill is not exaggerating. It's inspiring to hear West rattle off rhythmically the names of so many important black musicians and heroes, as the band swells and/or shifts to the appropriate theme (i.e. funereal on the death of Cr. Martin Luther King Jr.)
Other tracks include "Baby Jack," a piece commissioned by O'Farrill's dear friend, Mary McCormick. "Baby Jack" about how a baby can almost instantly shift from sheer joy to howling with pain. "The Jazz Twins" is dedicated to Arnold and Donald Stanley from Los Angeles; two close knit staples of the jazz community. The Stanley's have become close acquaintances of O'Farrill, who have traveled with him to Cuba. As part of O'Farrill's MacDowell residency at the Apollo Theater, he also composed "Clump/Unclump." The piece, which opens in Monk-like fashion and as the title suggests to different tempos and dynamics, encapsulating the relentless law of gathering and scattering, the coming together and the falling asunder. While writing the piece, O'Farrill faced his oldest child leaving the parental home and his only remaining parent becoming terminally ill.
"A Still, Small, Voice" is in response to the great financial crisis of 2008 when select financial institutions took part in unscrupulous practices that caused serious harm to middle class Americans and people around the world. It reflects a common thread between all religions and philosophies, and borrows words from Hindu, Christian, and Shinto texts. The composition features an inimitable choir assembled by choral conductor Jana Ballard. In addition to the title movement, "A Still, Small, Voice" contains three additional movements entitled, "Elijah – 1 Kings 19:13," "Amidst The Fire and Whirlwind," and "Cacophonus."
Think twice before ignoring this one. The music is inspiring and melds together the percussion style of a Latin band with freestyling music and adventurous soloing, not unlike Mingus' large ensembles, or in contemporary terms Orrin Evans' Captain Black Big Band. At times, the avant-garde elements evoke the group that O'Farrill mentioned earlier, The Art Ensemble of Chicago. This is creative, thoughtful, socially conscious music, not that of Latin jazz band designed to have you dancing. At times frenetic, at others contemplative – this deserves a focused listen.
Following his 2009 GRAMMY® Award for "Best Latin Jazz Album" for the Orchestra's debut recording, Song for Chico (ZOHO), O'Farrill has received numerous GRAMMY® wins for The Offense of the Drum ("Best Latin Jazz Album"), Cuba: The Conversation Continues "The Afro Latin Jazz Suite," ("Best Instrumental Composition"), and his album with Chucho Valdés, Familia: Tribute to Bebo & Chico, won a GRAMMY® Award in the "Best Instrumental Composition" category for his composition, "Three Revolutions." Cuba: The Conversation Continues won a 2016 Latin GRAMMY® for "Best Latin Jazz Album." In September 2018, O'Farrill released his latest album, Fandango at the Wall: A Soundtrack for the United States, Mexico, and Beyond, featuring the Afro Latin Jazz Orchestra, Antonio Sanchez, Regina Carter, Akua Dixon, Mandy Gonzalez, Patricio Hidalgo, Rahim AlHaj, and Ramón Gutiérrez Hernández.
Arturo O'Farrill is on the faculty of The Manhattan School of Music and The New School. In 2019, O'Farrill was appointed a Professor at The Herb Alpert School of Music at UCLA, in the Global Jazz Studies department. O'Farrill is a Steinway Artist. He also founded and heads the non-profit Afro Latin Jazz Alliance (ALJA) was established by Arturo O'Farrill in 2007 to promote Afro Latin Jazz through a comprehensive array of performance and education programs. ALJA produces the Afro Latin Jazz Orchestra's annual performance season in New York and maintains a weekly engagement for the Orchestra at the famed jazz club Birdland. The Alliance also maintains a world-class collection of Latin jazz musical scores and recordings.