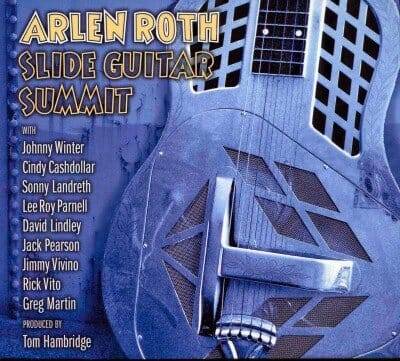 Arlen Roth
Slide Guitar Summit
Aquinnah Records
Arlen Roth is known as the "Master of The Telecaster". He released his first album "Guitarist" in 1978 and it won the Montreux Critics' Award for Best Instrumental Album. He recorded "Toolin' Around" in 1993 with Danny Gatton, Duane Eddy, Jerry Douglas, and Duke Robillard and an accompanying documentary film. In 2008 he recorded a sequel "Toolin' Around Woodstock" with Levon Helm, Sonny Landreth and Bill Kirchen and it also included another documentary film. Roth last album was 2012's "All Tricked Out" and it received four Grammy award nominations. Roth however is more of a teacher as his "Hot Licks Video" series pioneered guitar education and sold over 2.5 million copies.
Roth is the only musician that appears on all fourteen tracks. The album is produced by Tom Hambridge who plays drums on seven of them. On these he is joined by bassist Tommy MacDonald. They open the album with "Do What's Right" written and sung by slide guitarist Jack Pearson who was a member of The Allman Brothers from 1997-1999. Pearson and Roth are both featured on slide.
The next track is Robert Johnson's "Dust My Broom". Lee Roy Parnell, vocal and slide, replaces Pearson. Also joining the band is pianist Kevin McKendree. Parnell also sings and plays with the above ensemble on Lowell George's "Dixie Chicken".
Parnell leaves and is replaced by slide guitarist Greg Martin and Roth sings the lead vocal on Jimmie Rodgers' "Peach Pickin Time in Georgia". Martin and McKendree exit and they are replaced by Rick Vito who joins Roth on his original instrumental "Paradise Blues".
The only other vocals are two by Jimmy Vivino featuring him and Roth by themselves. Both of them are on slide. They are the traditional "Poor Boy Blues" and Laura Nyro's "And When I Die".
Other highlights include the late Johnny Winter playing slide on "Rocket 88". Slide wizard Sonny Landreth on Roth's "Sunny Skies"; and David Lindley on Roy Byrd's "Her Mind is Gone".
Cindy Cashdollar plays lap steel guitar on Leon McAuliffe's "Steel Guitar Rag" and on Acker Bilk's "Stranger on The Shore". The later is breathtakingly beautiful. Roth closes with the traditional "Amazing Grace".
This is a totally unique album from one of the greatest guitarists of our time. This is a must to own.
Richard Ludmerer