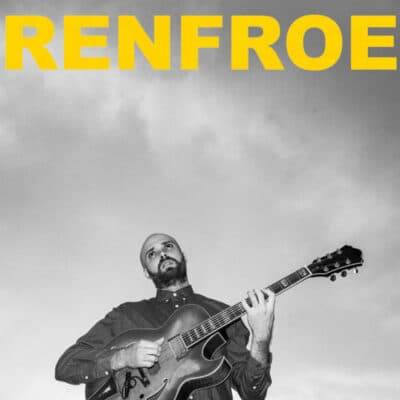 Andrew Renfroe
Ride in the Storm
Self-released
Ride in the Storm is guitarist Andrew Renfroe's first album as a leader with all original compositions. Renfroe has built a reputation as a first call guitarist for artists such as Braxton Cook, Tia Fuller, and Jonathan Barber, to name a few. Renfroe's many references, based on his 2020 EP Dark Grey range from Delta blues to West African music to Coltrane and to the late 20th century French composer Olivier Messiaen whose direct influence inspired two of Renfroe's compositions herein.
Personnel include frequent collaborator Braxton Cook (alto saxophone), Taber Gable (piano/keyboards), Rick Rosato (bass), and Curtis Nowosad (electro-acoustic drums). Trumpeter Marquis Hill appears on "Gotham," inspired by Renfroe's brother in the armed services. The core players all have history with Renfroe. Cook and Renfroe studied together at Julliard and to date Renfroe as appeared on all three of Cook's albums as leader. Gable featured the guitarist in his 2020 debut Hidden Driveways and drummer Nowosad had Renfroe in his band for his self-titled 2019 recording. Here Nowosad plays the electro-acoustic drums on all cuts except "Gotham" and "Run in the Storm," with a sound that marries jazz phrasing with hip-hop influences. Renfroe met bassist Rosato at a trio gig playing standards, so this marks their first recording together.
The inspiration for the album comes from the memory of a traumatic event when Renfroe's Florida-based fishing family almost died in a raging storm at sea. As Renfroe says, "All these tunes were written in a stormy period of my life, and it's a relatable premise: you can't sit still in the waves (we would have capsized), but rather, you drive through it and 'Run in the Storm'."
Renfroe and crew explore vast sonic territory here from the blues of "Dula" to the graceful lyricism in "Gotham." As you listen his style is mostly roots and blues-based, but there are traditional jazz influences and touches of the more contemporary pedal-heavy approach. Those two tracks may be the most accessible of any as the others take inspiration, as mentioned, from the highly unorthodox late 20th century classical composer Olivier Messiaen. Yet, this is not quite as daunting as it may seem because Renfroe acknowledges that he usually just uses one or two chords as a starting point or embeds a short melody in his original. For example, he indicates that "Alps" is derived from the first measure of Messiaen's "Le Chocard des Alpes" while "1998" borrow chordal movements form "Le Banquet Celeste."
There are some interesting contributions from produce Drew Ofthe Drew as well. "Storm's Eye" is a rambling, atmospheric guitar solo that reframes the title track and "Ghosts" at 1:43 shadows the original melody of "Borrowed Time" with a more intricate unison passage. These unexpected touches enhance the album, making it a very different and more explorative jazz guitar album that is full of surprises and inspired interplay. The drumming is every bit as interesting as the guitar playing too. Given the instrumentation, it reads as fusion but in the final analysis, that's only a small part of the listening experience.