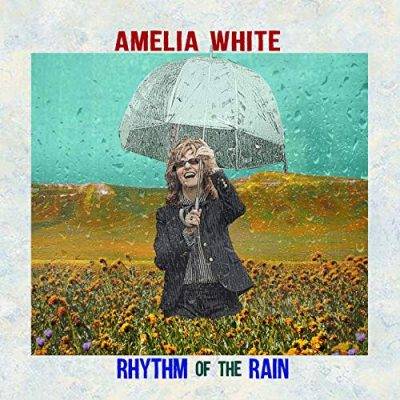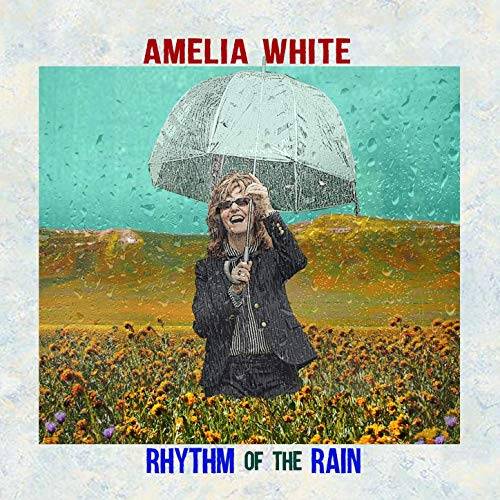 Amelia White
Rhythm of the Rain
Poets reach in and give voice to our greatest joys and darkest demons. Amelia White is one of Americana's most gifted poets and songwriters and the album, Rhythm Of The Rain speaks to darkest of personal and political loss. The thirteen songs on this her seventh album, written while Amelia was on tour in the U.K. In 2016, reflects a sense of helplessness at watching the unfolding of America. These songs are a glimpse of what those caught in the crosshairs are living day in and day out. These are beautiful songs that are masterfully crafted. You may just gain respect for your neighbor. This is an album that softens the divide and warms the heart.
As one of the most respected artists in East Nashville, Amelia calls some of the best songwriters and musicians her friends and gathered them for this album. Produced and mixed by Dave Coleman and Mastered by Alex McCollough, Rhythm Of The Rain is a treat for the senses. Guests on the album include Justin Amaral on drums, Eamon McLoughlin on violin, Fats Kaplan on violin and pedal steel, Will Kimbrough on guitar, dobro, and VOX, Julie Christensen on VOX, Ingrid Graudins on VOX, and the "Anti-Bigotry Choir" (a who's who of heroes). Go to AMELIAWHITE.COM for specific track credits and choir members.
The Blue Souvenirs are Amelia's core band and are: Amelia White on guitars and VOX, Dave Coleman on guitars, VOX and organs, Sergio Webb on guitars and banjo, Dave Jacques on bass, Parker Hawkins on bass, and Megan Jane on drums and percussion. If you're paying attention you've heard all these names listed above before. These artists gathered are some of my personal favorites and are highly respected in their own right. It's no wonder Rhythm Of The Rain is one of the most anticipated albums of 2019.
The songs of Rhythm Of The Rain can be interpreted figuratively or literally. They are the truths captured from the aether. The title song was written in an attic flat in the U.K. as a political storm was brewing at home. The "Rhythm Of The Rain" on the tin roof has a calming effect that breaks up the rhythm of those bad dreams and calms the fight. "Little Cloud over Little Rock" is an instagram photo taken from the road, a moment in time. It's also a snapshot of middle America working, joking drinking hoping for a better day. "Sinking Sun", co-written with Anne McCue and Rich McCulley, speaks to feeling like you're a sinking sun, just hang on till tomorrow. You're not the only one. "Sugar Baby" speaks to addiction and the prison bars real or imagined.
"Let the wind blow" is written with the Worry Dolls, and contains a beautiful violin solo. Is it a relationship or a vote that you put good money that you're defending. You don't like being wrong after all right? Perhaps it's time to let it all go-let the wind blow. "True Or Not", written with John Hadley, is perhaps a commentary on the current breakdown of reality. The guitar plays out like an old western and evokes a showdown between the good, the bad, and the ugly.
A society on the brink of breaking down exposes its underbelly. You either accept it or say enough is enough. "Said It Like A King", written with Lorne Entress and Lori McKenna, exposes bullying for the sleight of hand it hides behind. "…They're just child's words you say it don't mean a thing…but he said it like a king…". Sexist remarks, and those who wield them are no longer tolerated "Free Advice", written with John Hadley, addresses the double standard in the music industry. Amelia's songs rock! They are great songs with powerful lyrics and kickass guitar licks, they're not good for a girl or because she's a girl, they're good because Amelia White is badass. "How It Feels" provides insight into being on the receiving end of sexism, genderism, racism, and uglyism.
The emotionally charged aura during the recording process is evident in the songs "Yuma", written with Ben Glover for a friend who left too soon, and "Mother Of Mine". Rhythm Of The Rain recorded in four days between the death of her mother and the marriage to her partner. What started out as a farewell letter to her mother, ended as a song. Growing up is hard and Amelia confronts the pain of not meeting the standards set. This song doesn't hide behind strong instrumentation, it is clear in it soft vocals and complimenting violin. One of the most honest lyrically, this will be a song that heals. The following will hopefully bring it home before another family runs outta time, "By and by I will be fine but I'll pass along this message, Get right in your soul so you can take your loved ones in strong arms before they break".
"Pink Cloud", written with Gwil Owens and the only duet on the album, Will Kimbrough's vocals and guitar stand as proof of his mastery of craft. Arrange vocals for two masters on one song and trust me, the needle will wear a groove. The song begins with that instantly recognizable Kimbrough slide on steel and like a pink cloud rolling through a dark, dark sky, it offers hope for better days. This song is the perfect ending to a beautiful compilation of songs. Or is it? There is a hidden song on the album. Let the album play out after this track, a few seconds in and "Supernova", written with Tony Kerr, plays. Like its name, it's beautiful and fleeting. If you lose your focus you'll miss it.
Don't miss this album. Amelia White is cool and her songs speak truth and serve a purpose. The lyrics speak to the poet, the music speaks to the rocker. Amelia places the human in humanity and you feel good listening to her music. I know I do.
[amazon_link asins='B07JL4CGZD,B0181KK1FY,B07BKPBF62,B00HWN205G,B0006SKX76,B00759DXRQ,B0007MSVE8′ template='ProductCarousel' store='maasc-20′ marketplace='US' link_id='32db6e5d-1fec-4ce3-b25a-f4215163b448′]