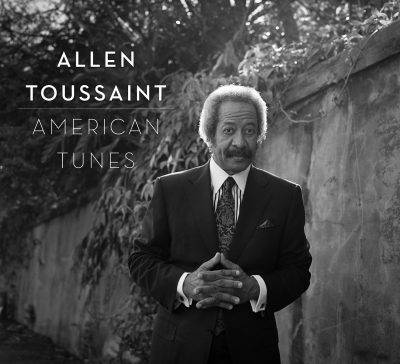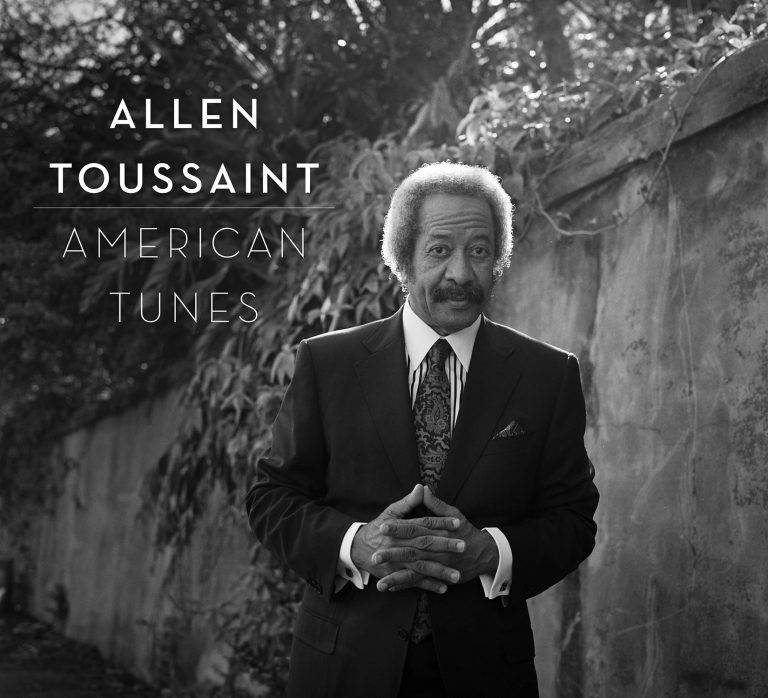 Allen Toussaint "American Tunes" Nonesuch Records
It would seem that "American Tunes" was/is intended to be the follow up to Toussaint's 2009 "The Bright Mississippi." In preparation for this album solo piano sessions were recorded in 2013, plus during the early fall of 2015 full ensemble tracks were assembled, several with special guests. Unfortunately: weeks after the concluding recordings Toussaint suddenly passed away while on tour in Madrid, Spain. What to do? Producer (Joe Henry) of the previous "The Bright Mississippi" elected to finish what was started – finalizing Toussaint's posthumous release that (supposedly) is the final chapter/album by the prestigious Allen Toussaint.
Toussaint's "Delores' Boyfriend" opens the album with Allen prancing solo on the eighty-eights, his delivery is so subtle yet poignant and light, displaying his underrated piano skills. Fats Waller's "Viper's Drag" calls for the trio of: David Piltch's upright bass and Jay Bellerose's drums meshes elegantly with understated and refined Toussaint piano revelations. The ballad "Confessin' (That I Love You)" utilizes the same trio where Piltch gets a moment to step out with a solo from his standup bass. One of the many well-known Crescent City anthems Roy Byrd/Professor Longhair's "Mardi Gras in New Orleans" is magnificently delivered by Toussaint's elegant piano phrasings illuminates a gentle tone on this forever classic. Billy Strayhorn's "Lotus Blossom" adds Charles Lloyd's tenor to the aforementioned trio ensemble works preciously with fascinating improvisation that beautifully sparks Lloyd's and Toussaint's intuitive solos. Bill Evans's "Waltz for Debby" invites the trio again with Toussaint's bopping rhythms incorporated into his bright and upbeat piano creations. Back down south to the Big Easy with Earl King's classic "Big Chief" effortlessly performed by Toussaint all by his lonesome with superlative and unexpected excursions. Play the Blues on Duke Ellington's "Rocks in my Bed" with Rhiannon Giddens' sharp vocals and Bill Frisell's slide guitar, note the Blues runs from Toussaint's fingers that help elevate this downhome and greasy chestnut. Professor Longhair/Roy Byrd gets a second helping "Hey Little Girl" that's unaccompanied performed by Toussaint. Earl "Fatha" Hines' "Rosetta" is a great waltz for the trio and for Toussaint's strident piano offerings and solo. I would have thought Toussaint's "Southern Nights" would have closed this touching recording but nonetheless it's a stunning solo rendition by Toussaint with additional improvisational crosscurrents that captivate. The finale is Paul Simon's title track "American Tune" which is the only vocal track by Toussaint. It also features Adam Levy's gut-string guitar with Toussaint's piano performed as a duo. I found this closer to be an odd conclusion, as previously mentioned – I would have preferred "Southern Nights" to complete this otherwise fine demonstration that documents Allen Toussaint's extraordinary career as one of this nation's greatest songwriters, and (again) as a very underrated pianist.
Note: The song "American Tune" is based on a melody line from a chorale from Johann Sebastian Bach's St Matthew Passion, itself a reworking of an earlier secular song, "Mein G'müt ist mir verwirret," composed by Hans Leo Hassler. The melody used for "American Tune" can be heard quite distinctly. The melody to "American Tune" is practically identical to that of "Mein G'müt ist mir verwirret" and "O Sacred Head, Now Wounded." Although Paul Simon expanded on the tune, credit to the origins of the melody is given on Simon's album cover. https://en.wikipedia.org/wiki/American_Tune
Sort of unrelated: The only piece missing from Toussaint's solid back-catalog is a proper compilation of his best tunes performed by Allen and/or those artists who scored with mega top charting hits that were authored by Toussaint. This (potential) Toussaint tribute album is long overdue, and could easily span two discs. So why not make it a reality?
For 17 years Bob Putignano has been pivotal with his Sounds of Blue radio show: www.SoundsofBlue.com – Previously a contributing editor at Blues Revue, Blueswax, and Goldmine magazines, currently the Music Editor for the Yonkers Tribune www.YonkersTribune.com & www.MakingAScene.org Bob was also the 2003 recipient of the "Keeping the Blues Alive" award (given by the Blues Foundation in Memphis) for his achievements in radio broadcasting. Putignano can be contacted at: BobP@SoundsofBlue.com