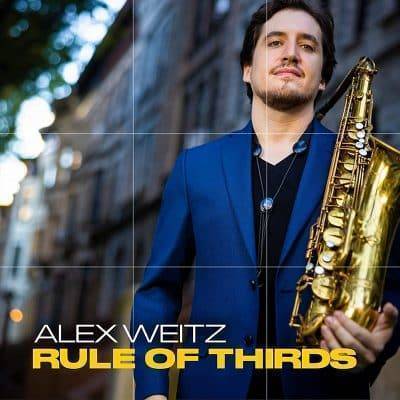 Alex Weitz
Rule of Thirds
Outside in Music
Saxophonist and composer Alex Weitz is multi-talented. Many will recognize him as a videographer and, in fact, he is the man behind the camera for the popular streaming series "Live at Emmett's Place," of which, pianist Emmet Cohen guests on the aptly titled, Rule of Thirds, Weitz's third album as a leader. This is a fiery session with eight original compositions and an inventive arrangement of Cole Porter's "Love for Dale." He features the core bass-drum tandem of Ben Tiberio and Michael Piolet respectively, along with pianist Tal Cohen (no relation to Emmet). The other guests are drummer Ari Hoenig, guitarist Yotam Silberstein, and trumpeter Marcus Printup. Weitz is on tenor throughout. S
Though still emerging, Weitz's jazz credentials are already formidable. The Arizona -born Weitz was a member of the award-winning Tucson Jazz Institute Ellington Band. Alex went on to complete both his undergraduate and graduate studies at the University of Miami Frost School of Music. In 2019, he won second place in the Michael Brecker International Saxophone Competition held in Eilat, Israel. In 2019 as well as 2021 he was the recipient of an ASCAP Herb Alpert Composer Award. In 2021, he won the "Pathways to Jazz" grant from Boulder County Arts which helped fund this album.
The title also refers to more than just Weitz's third album. It references three genres – straight-ahead jazz, classical, and rock-influenced odd meter music. It also references the fact the NYC is the third city where Weitz has played professionally and a nod to his visual vocabulary where the term applies to placing the subject of an image off-center and within a third of the frame for the purposes of composition and creativity.
He opens with the hard driving "The Hive" featuring Emmet on piano and Hoenig on drums. Although it's purely coincidental that the tune bears some resemblance to Lee Morgan's "The Beehive," instead it's named for Weitz's favorite vegan restaurant in Miami. Interestingly Weitz does not cite Morgan but rather Joe Henderson in inspiration for the tune. (The Morgan reference is just purely mine the, except that both burn). The genres are comingled so a classically oriented piece, "Nocturne in C Sharp Minor," follows that features Silberstein with solos from the leader and Tal Cohen in one that morphs from a clam beginning into an intense piece with a dramatic climax. "Rude Awakening," a series of cascading phrases, represents that third odd meter genre, here rendered by the core backing trio.
"Harlem Lullaby" highlights Weitz's robust tones on a ballad with a chance for bassist Tiberio to make his own poignant statement while the "Odyssey" is an odd meter tune that gives the spotlight again to guitarist Silberstein as Weitz also gets edgy in free blowing mode. We resume the straight-ahead hard bop with "Convent Court" with Emmet Cohen and trumpeter Printup (from JLCO) team in this swinger with a few unexpected surprises The title track falls into the odd meter camp with the explosive interplay between Weitz and drummer Piolet especially impressive. Tal Cohen and Tiberio speak up authoritatively as well. Weitz's gives Porter's "Love for Sale" initially a mid-tempo treatment that he then alternates with accelerating tempo in his rapid-fire soloing as well as Tal Cohen's while drummer Hoenig somehow keeps it from careening even further off the rails. After that burst of energy, a classical piece, "Sonata for Fred," a tribute to Weitz's late father closes as an elegiac duet rendered by Weitz and Emmet Cohen.
Rule of Thirds is well crafted and well balanced but rest assured Weitz and his musicians bring plenty of fire as well. As intended, the third is a charm in multiple ways.
Help Support Making a Scene
Your Support helps us pay for our server and allows us to continue to bring you the best coverage for the Indie Artists and the fans that Love them!
Make a one-time donation
Make a monthly donation
Make a yearly donation
Choose an amount
Or enter a custom amount
$
---
Your contribution is appreciated.
Your contribution is appreciated.
Your contribution is appreciated.
Donate
Donate monthly
Donate yearly
You can donate directly through Paypal!
Subscribe to Our Newsletter