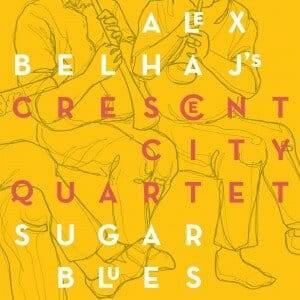 Alex Belhaj's Crescent City Quartet
Sugar Blues
Alex Belhaj Music
I first went to New Orleans in 1995. I thought it would be great if I got to see Joe Krown playing piano at The Maple Leaf. I didn't think I was really into Jazz except where it crossed with the Blues. After going to New Orleans several times I started to develop an appreciation for Traditional Jazz.
Traditional Jazz includes Dixieland and Ragtime. In contrast to modern Jazz traditional Jazz usually uses a front line of trumpet, clarinet and trombone and not sax. Early Louis Armstrong is of course Traditional Jazz. What really hooked me about this album is that the ensemble is a quartet as I usually listen to small bands.
The liner notes talk about Alex Belhaj, vocals and guitar, and how he developed his interest in Traditional Jazz with his own visits to The Crescent City. The band is rounded out by Ray Heitger, vocals and clarinet; Dave Kosmyna, vocals and cornet; and Jordan Schug, string bass.
Then there are the songs. Piedmont Blues has absorbed a lot of Ragtime and other genres so many of the song titles are familiar to me. ­­­­
The album opens with "Weary Blues". This is not conventional Blues by today's standards but a bit of hot ragtime. This tune dates back to 1919 and has been recorded by Louis Armstrong, Sidney Bechet and more recently Madeleine Peyroux. Heitner's clarinet solo is followed by Kosmyna's cornet.
"My Bucket's Got a Hole in It" was written by Clarence Williams in 1927. Hank Williams recorded a version of this song and it reached #4 on the country music chart in 1949. In 1958 it was a single by Ricky Nelson. Other artists who recorded this song include The Ramsey Lewis Trio, Flatt and Scruggs, Van Morrison, and in 2008 it was recorded by Willie Nelson and Wynton Marsalis on "Two Men with The Blues".
"Sugar Blues" the title track is also written by Clarence Williams and it dates back to 1920. It has been recorded by Johnny Mercer, The Preservation Hall Jazz Band and many others.
"Careless Love" is traditional and has been recorded hundreds of times by everyone from Elvis Presley to Snooks Eaglin.
"Viper Mad" is from Sidney Bechet and was written in 1938. It is a song about "reefer madness". They share the vocal in a call and response.
"His Eye is on The Sparrow" is a gospel tune that dates back to 1905. In 1951 it was sung by Sister Rosetta Thorpe with Marie Knight. This is slow and sweet.
"Four or Five Times" was written by Byron Gay and first recorded in 1928 by King Oliver. There are numerous versions of this song.
"My Man Rocks Me (With One Steady Roll) was written by J. Berni Barbour in 1922 and recorded by Trixie Smith. It was the first recording to utilize the phrase "rock and roll".
"Tiger Rag" is credited to Jelly Roll Morton and was first recorded by The Original Dixieland Jazz Band in 1917. It is a Jazz standard and often used in movies. It is also a fight song used by Clemson, LSU, Missouri, Princeton and Auburn Universities.
"Sitting on Top of The World" was written by Walter Vinson and Lonnie Chatmon, members of the Mississippi Sheiks. It has been recorded by everyone from Doc Watson to The Grateful Dead.
"You Don't Love Me" was written by Louis Cottrel Jr, Lloyd Glenn and Don Albert in 1954.
On "Take My Hand, Precious Lord", the music dates back to 1844 but the lyrics were written by Tommy Dorsey in 1932.
Belhaj and Schug provide the foundation for Heitner and Kosmyna and they solo fabulously throughout the recording. While the tunes are hot I also find the music to be calming and serene. The quartet of Belhaj, Heitger, Kosmyna and Schug are just great.
Richard Ludmerer