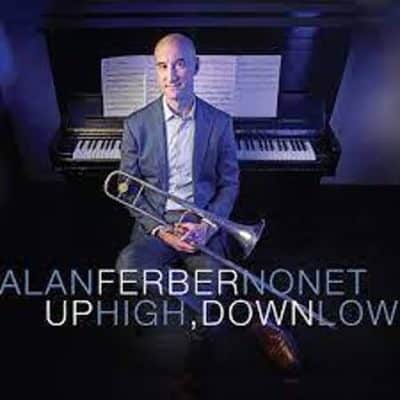 Alan Ferber Nonet
Up High, Down Low
Sunnyside
Although readers of these pages have seen trombonist Alan Ferber as a sideman on several projects that we've covered, this is your introduction to Ferber as a bandleader and composer, leading his nonet, as he's done for over twenty years. The members are leading voices on their instruments in the New York jazz scene. Throughout its tenure the members of his nonet have shifted slightly but the tenor saxophonist John Ellis and the drummer Mark Ferber, Alan's twin brother, have been present in all the recordings of the nonet so far. Returning from 2016's Roots and Transitions are Scott Wendholt (trumpet, flugelhorn), Jon Gordon (alto saxophone), Matt Clohesy (acoustic and electric bass) and Charles Pillow (alto saxophone, alto flute, clarinet, bass clarinet). New additions are Chris Cheek (baritone saxophone), Nir Felder (guitar) and David Cook (piano) for Ferber's latest, Up High, Down Low.
A few words on Ferber are in order. Ferber is a force both inside and outside jazz. In the former he collaborates with progressive artists such as Miguel Zeon, Darcy James Argue, and Dafnis Prieto, to name a few and outside he works with indie rocks bands San Fermin, The National, and Sufjan Stevens, for example. He co-directs an incubator for jazz composers in NYC, the BMI Jazz Composers Workshop, teaches composition and arranging at Montclair State University and NYU; and as a trombonist, he topped the 2022 Downbeat Rising Star Critics' Poll.
The album's concept was born during the pandemic when Ferber was away from NYC, spending time with his wife's family in St. Louis. He shaped these compositions with the individual musicians in mind, but serendipitously connected with Chris Cheek, who was residing in St. Louis. Thus, the baritone saxophone replaces the bass clarinet as a major low-end instrument. Ferber was fortunate to collaborate with local musicians in St. Louis while there to 'road test' these compositions and later at Smalls in NYC before hunkering down in the studio in July 2022. As the title suggests, Ferber is after musical opposites – high versus low pitches, light and dark textures, dense and open spaces, tension and release, and, above all, unpredictability. In the process, several genres coalesce in his exciting mix and some pieces have as many as four soloists.
The title track kicks off with Ferber and Felder as the featured soloists weaving their way through indie rock chord progressions over a funky rhythm while forming melodies that are minimalist classical in origin. Somehow these elements merge together to swing hard. The introduction to "Brimstone Boogaloo" sounds like that indelible refrain from the theme for Mission Impossible. This is intentional of course as the tune was originally composed for a main character in the popular video game Valorant and sources the soundtracks to '60s heist movies. Clohesy, Pillow on alto flute, and Wendholt on the Lee Morgan-like trumpet are the soloists who bring out the boogaloo aspects of the tune. In "Ambling," more so than any, Cheek's baritone sax is the go-to anchor. Again, we hear echoes of the '60s as Ferber nods compositionally to Strayhorn and Benny Golson. It's one of two with four soloists, in this case Ferber, Ellis, Cook, and Wendholt.
From Cook's light, bright piano notes forward "The More I See You," an arrangement of a Harry Warren/Max Gordon composition, carries a smiling, swinging vibe with intricate ensemble sequences and energetic solos from Cook, Gordon, Wendholt, and drummer Ferber. Here, as in several pieces, the blues is never far behind, especially in Cook's solo. The seemingly light, feathery "In Hindsight" has an inspired saxophone conversation between Ellis and Cheek but builds intensely in the second half behind Felder's impassioned guitar solo. Ferber's trombone emphatically voices Joni Mitchell's lyrics in one of her lesser-known songs, "Cherokee Louise," with pianist Cook also in the spotlight. "Violent Soul" is an older piece of Ferber's originally written for a string quartet. Here he beings with an a cappela horn section melody, later yielding to Gordon's emotive alto, breaking through like splinters of sunlight in the clouds.
Fellow saxophonist Ellis is the featured soloist in Ferber's rather faithful but surprising with its use of wah-wah for the brass in his arrangement of Norah Jones' Day Breaks." In closing he defers to new nonet member Cheeks both for the composition and solo in "Ice Fall." It all adds up to an engaging program and invites multiple listens to discover some of the subtler aspects that may have been initially overlooked.
Help Support Making a Scene
Your Support helps us pay for our server and allows us to continue to bring you the best coverage for the Indie Artists and the fans that Love them!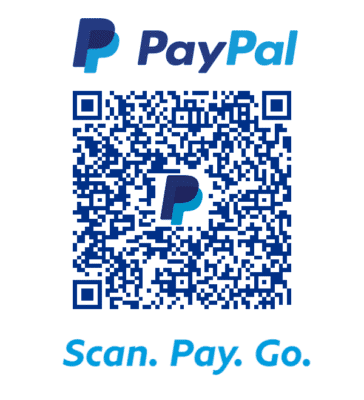 FOLLOW US ON INSTAGRAM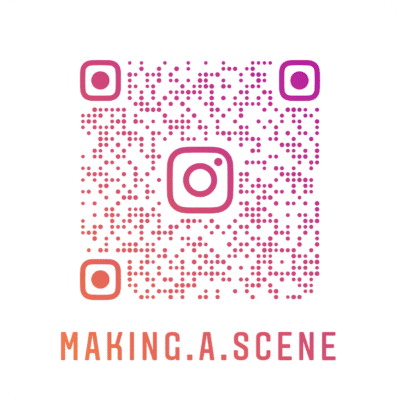 Subscribe to Our Newsletter