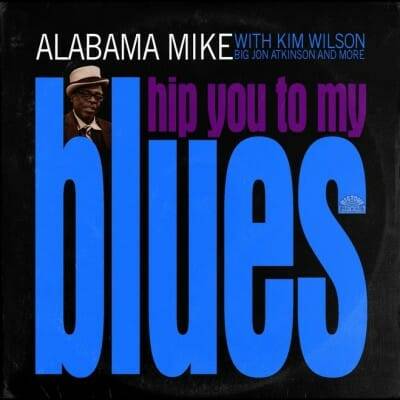 Alabama Mike
Hip You To My Blues
Bigtone Records
Michael Benjamin was born in Talladega, Alabama in 1964. At an early age Mike sang gospel. After serving in the Navy he settled in the San Francisco Bay area where he developed his love for the blues. Using the name Alabama Mike he released his 2009 debut album "Day To Day" on his own Jukehouse Records label. His tenor vocals and songwriting began to get noticed and he followed up with 2010's "Tailor Made Blues" resulting in a 2011 Blues Music Award nomination as Traditional Male Artist of The Year. Mike's highly successful third album, "Upset The Status Quo", was produced and recorded by Kid Andersen at Andersen's Greaseland Studios and released on the Greaseland Records imprint. In 2018 Alabama Mike recorded "Double Strike" with the Andy T Band and toured in support of the album.
Vocalist Mike states "a desire to do a record in the classic style of early electric blues music pioneers, like Muddy Waters, Jimmy Rogers, Sonny Boy Williamson, BB King and others has been churning and burning in me for decades." That desire was realized by partnering with producer Jon Atkinson at Atkinson's Bigtone Records studios.
Atkinson records using vintage all analog 1950's equipment to get that old school sound. An all-star cast of musicians contribute to the recording. Featured are guitarists Atkinson, Danny Michel and Niko Hernandez; bassists Troy Sandow, Kedar Roy, and Joe Kyle; drummers Malachi Johnson, June Core, Ronnie Smith and Marty Dodson; and harmonica aces Kim Wilson, Joe Lempkowski and Sandow (who takes a turn).
Mike becomes a historian on eleven selected covers. "Hello Central", with Michel, Wilson, and Dodson, was written and first recorded by Lightning Hopkins in 1959. "Black Cadillac" featuring Atkinson and the rhythm section of Sandow and Johnson, was recorded by Hopkins in 1969; Mike's tenor vocal is absolutely fabulous.
Three songs are from J.B. Hutto. On "20% Alcohol", guitarist Atkinson is backed by the rhythm section of Roy and Core, the song first appeared on J.B. Hutto & his Hawks 1969 Delmark Records album "Hawk Squat". The other two songs are "Diabetic Man" and "I Feel So Good"; the latter recorded live in France in 1982.
"Angel Child" was written and first recorded by Jimmy Rogers on his 1984 "Feelin' Good" album. "Cut That Out" from Junior Wells is from his 1998 album "Blues Hit Big Town" recorded with Muddy Waters. "How You Want Your Rollin' Done (Tell Me Pretty Baby)" is from Big Joe Turner. "I'm In Love With A Woman (Make My Dreams Come True)" is from Elmore James and His Broomdusters. "V-8 Ford Blues" was written and recorded by Willie Love in 1952. "Keep My Grave Clean" is the 1928 classic recorded by Blind Lemon Jefferson.
Also included are four new songs written by Mike. "I'm Selfish" featuring Sandow on harmonica, and Atkinson on guitar; "Stop Accusing That Woman" with Hernandez on guitar; "Frustrate My Life (Naggin' Blues)" with Lempkowski on harp; and the title track "Hip You To My Blues" with Robert Welsh featured on piano.
Mike wants to thank the all-star cast and especially producer Atkinson. While recording he could feel the spirit of the blues legends applauding. This is another highly recommended album from Alabama Mike who once again should be a nominee for Traditional Blues Artist of The Year.
Richard Ludmerer