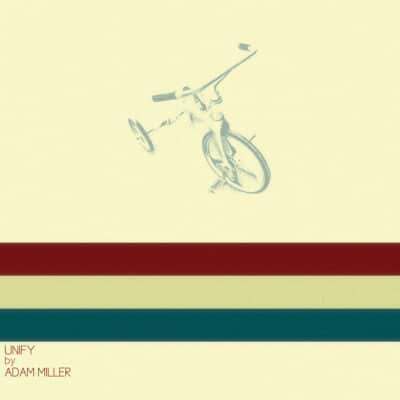 Adam Miller
Unify
Emtechnik
Australian guitarist Adam Miller has released his latest album, Unify. Recorded in Los Angeles, Miller's trio features prominent LA musicians – bassist Joel Gottschalk and drummer Justin Glasco. All Miller originals, these songs are born from settling not only into a new city, but a new country, all the conflicting emotions associated with such. The album is equally influenced by the current Los Angeles jazz scene and the Australian pub rock scene of Miller's hometown, Newcastle. Initially, due to the array of uncertainties that come with moving, Miller found that the titles had negative connotations which he quickly changed because he sensed a joy and optimism when listening – as if all were coming together. Hence, the title.
In terms of a reference point, this writer compares Miller favorably to Julian Lage, especially in Miller's bluesy playing on a tune nodding to one of his own favorite guitarists, "Adam Levy," with whom he has toured. After a decade of international touring Miller decided to move to L.A. He fell in with Charlie Hunter, Adam Levy, Ariel Posen and others, opening a host of opportunities, which is when he met Justin Glasco and Joel Gottschalk. The trio began playing small bars and clubs and miller also toured extensively across the U.S. A mid-year tour back to Australia injected the songs with a pub rowdiness. This, combined with the L.A. sophistication, led to a cohesive blended album. Most of the tracks are a showcase for Miller's electric guitar playing while "Shipping" and "Citrus" are performed on the acoustic archtop. This is an interactive trio album with just a few dubs of acoustic guitar rhythm and pedal effects. It's mostly melodic grooves with subtle harmonic complexity, leaning as much toward pop as jazz. Miller interacts well with the trio but careful listening reveals that he's in charge of melody, harmonies, and bass lines on one instrument. He's refined his technique over the past 20 years, having been declared the 2002 Australian Fingerstyle Guitar Champion.
As we glean Miller's notes for the tracks, they are filled with first impressions of his new adopted city. Three tracks in we get the slow 6/8 "Leaving," depicting the weight, uncertainty and impending excitement of the move. He creates a hypnotic landscape of loops on his archtop for "Shipping" and portrays the hustle and bustle on his new city in "Jungle, Jungle." Speaking of that, perhaps the most animated tune here is aptly busy "Hustle."Two others are even more directly centered on L.A. "West Hollywood" was inspired by attending a jazz gig on Sunset Boulevard but he tries to capture (if you've been there, you can relate) the "hipness, grottiness & suburbia" elements of the locale. "Citrus," also played on the acoustic, is a nod to a share house on Citrus Avenue that reminded him of a house he has lived in for a long time Down Under. Thus, he reprised elements of "Home" from his previous album The Defining of Success. The closing "Overuse" has the best anecdotal story though. He relates playing a gig that was three times as long and underpaid as quoted in a loud, rowdy, fight-infested joint that left him with Carpel Tunnel Syndrome at the end of the gig. Completely shut down, he thought he'd never be able to play but instead picked up the guitar, wrote the song, and everything clicked back in. Like the album title says, it all came together. Get to know Adam Miller. The newcomer is likely to stay for a good long time.