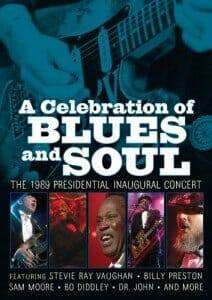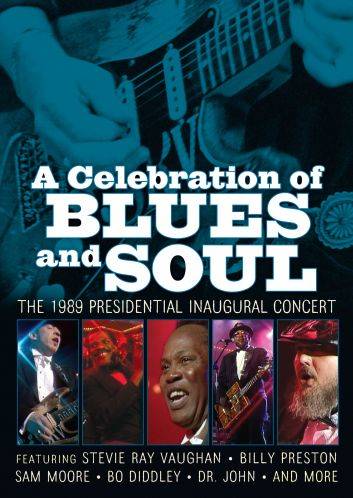 A Celebration of Blues and Soul – The
1989 Presidential Inaugural Concert"
On January 21, 1989, the day after the Presidential Inauguration some of the principal names in classic rhythm and blues, soul and blues performed at the Presidential Inaugural Concert. This celebration features (in order of appearance) Chuck Jackson, Percy Sledge, Dr. John, Joe Louis Walker, Willie Dixon, Koko Taylor, Bo Diddley, William Bell, Carla Thomas and Billy Preston, Eddie Floyd, Sam Moore, Delbert McClinton, Albert Collins, Stevie Ray Vaughan, along with top-sidemen brother Jimmie Vaughan who sits in with Albert Collins and Stevie, plus Steve Cropper, Duck Dunn, George Naha, Cash McCall, Ronnie Wood and more.
The video and twenty-four-track recording were recorded, but the tapes were deemed lost, that is until this DVD release some twenty-five years later. George Bush senior's campaign manager and former Percy Sledge sideman Lee Atwater served as the honorary chairman of festivities and was mostly responsible for assembling all of the (mostly southern based) star-power.
Chuck Jackson opens the proceedings and scores mightily with a super hi-paced "I Don't Want To Cry" that eventually shifts to the Isley Brothers "Shout." Willie Dixon's band featured Albert Collins' guitar and Delbert McClinton's harp as they strut through " H o o c h i e Coochie Man," Dixie calls for Koko Taylor for a swampy "Wang Dang Doodle." Bo Didley performs three of his classics "Bo Diddley," "I'm a Man," and "Hey Bo Didley" but I found his set jagged, even with the addition of Stone guitarist Ronnie Wood. William Bell takes his best shot on "Born Under a Bad Sign" with Stax mates Steve Cropper and Duck Dunn, but it doesn't deliver and falls off the tracks like a big train-wreck. Ah but Carla Thomas comes to the rescue with sharp rendition of "B-A-B-Y," and further captivates on a duet with Billy Preston performing a dramatic "When Something is Wrong with my Baby," that was authored by Isaac Hayes.
Eddie Floyd takes no prisoners on a rollicking "Knock On Wood" as he dancing with a young lady from the crowd, and gives a shout-out to "all you young Americans." Sam Moore continues the soul groove with "Soul Man" complete with Steve Cropper's well-known guitar riffs, Moore's on too, the band's full-tilt especially when Cropper gives George Naha some guitar solo space, but it's Moore who is in control and trades vocal barbs with Billy Preston who vocally plays the part of Sam's old partner Dave Prater. Delbert McClinton performs four songs starting with the jumping and bluesy "Just a Little Bit." Delbert has several members of his own band on board, most notably Don Wise's sax and keyboardist Nick Connolly. But even though Albert Collins and Steve Cropper are in this band Delbert calls out twice to Wise for not one but two blistering sax solos. The funky "Standing On Shaky Ground" is next where it's obvious Collins is having a ball with tasty guitar fills, but Wise's sax fires (twice) again, Delbert's vocals are also roaring and is in total control as a seasoned bandleader.
The Texas swinging "Maybe Someday" adds Delbert's harp, as the band shifts into overdrive, Wise again powers another strong sax break here. McClinton concludes his set with a percolating "B-Move Box Car Blues." Delbert introduces the Iceman – Master of the Telecaster Albert Collins who shreds his signature "Frosty" with Stevie Ray and Jimmie Jimmie. What a photo-op it is to see all three guitarists standing side by side by side. Stevie Ray fires solidly as does brother Jimmie, of course Collins takes his customary (but short) stroll through the crowd and plays his butt off, perhaps scaring a few of the political dignitaries, Reese Wynans also explodes on B3. SRV takes over with the bone-chilling straight blues of Larry Davis' "Texas Flood." This is classic with Stevie Ray closing his eyes, playing his guitar over his head, behind his back and just letting go, even when he breaks strings, he gets a new guitar and picks up where he left off and explodes, as he expounds "that's blues for Texas!" "Lovestruck Baby" is all pedal to metal, Stevie calls out to Wynans "get it Reese" who switches to piano and erupts, Jimmie tears a new one here too, man this is hot, especially when Stevie puts his hat on the microphone and jams! Stevie introduces his entire band (though Jimmie's disappeared) and they rip into (another Stevie) Wonder's "Superstition" where the only weird thing is the cameraman's poor judgment of filming the hall that's now mostly empty, but this doesn't bother SRV who continues to wail. They close with a short "Scuttle Buttin'," as Stevie "thanks to all Americans of the world," reminding us "that we're all alive because of the grace of God." Eerily Stevie tragically passed (about one and a half year later) in a helicopter crash after a concert on August 27th, 1990. Additional weirdness; the man largely responsible for this evening Lee Atwater died on March 29th, 1991 from a brain tumor. Say what you want about Atwater, but this terrific evening was all about Atwater's love and appreciation of the music. Just listen to the closing audio (with the complete text of musician credits) of Koko Taylor singing "Let the Good Times Roll" and remember what a memorable night it was, and nothing more.
So there you have it, well recommended for fans of blues, rhythm and blues, and southern soul: "A Celebration of Blue and Soul: The 1989 Inaugural Concert" should more than float you boat. Note: What is greatly appreciated and unusual for many current DVD's is the wonderful twentyeight page booklet with mega behind the scenes (too lengthy to describe here) tidbits of this very special concert in Washington D.C. Kudos to Shout Factory for contracting Peter Guralnick and Richard Harrington to opine about this show, as well as other very interesting factoids that didn't make it onto this DVD. Long story short: This DVD is highly recommended for repeated viewings. Lastly, and personally speaking: (even though it's not announced) I'd love to see a CD audio release of this powerhouse performance made available as well.
Bob Putignano has for fifteen years been pivotal at WFDU with his Sounds of Blue radio show: www.SoundsofBlue.com – Previously a senior contributing editor at Blues Revue, Blueswax, and Goldmine magazines, and Music Editor for the Westchester Guardian. Putignano can be contacted at: bob8003@yahoo.com