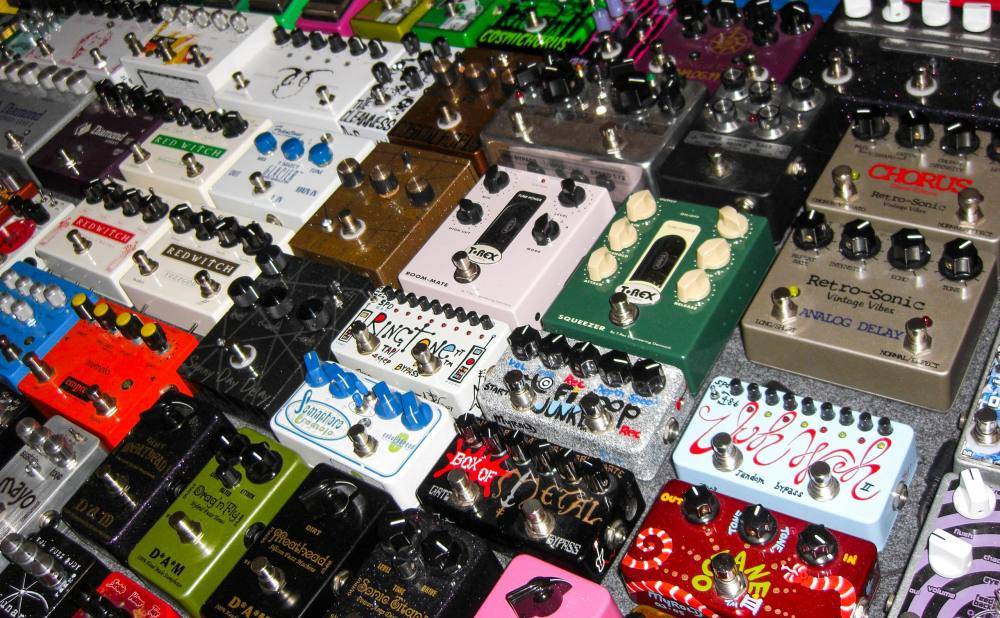 4 Handy Guitar Pedal Hacks that You Probably Don't Know
While owning and using a guitar pedal can be a great way to bring new life into your performances, these awesome little devices don't come without their fair share of problems.
From connectivity issues and power problems to residue and faulty dials, there are plenty of things that can go wrong with these little devices, some of which may end up costing you more than you bargained for.
Today, we're going to explore several handy hacks you can start using on your pedals and pedal board right now. These are to ensure you maximize the lifespan of your pedals and get to enjoy the best experience from them for many years to come.
#1 – Custom Power Supply
Since most pedals rely on a 9-volt power supply, this means you can easily power most pedals from a standard 9-volt battery, even if the pedal itself is not a battery-powered unit! This means you can enjoy the benefits of your pedal, no matter where you are or what you're doing.
All you need is a simple 5.5mm x 2.1mm barrel connector, a 9-volt clip, and your battery. Then all you need to do is to connect your barrel connector into your pedal, plug in the battery and you'll be good to go!
#2 – Fully Portable Pedalboard
Using the technique above, or using other 9-volt battery packs, you could take things one step further by connecting multiple pedals to a board and then dedicating each space with its own power supply.
Having these all fixed in certain locations (and using rechargeable batteries) really does mean you can take your pedals with you wherever you go. This gives you complete freedom when and where you play and makes a great alternative if you're experiencing power issues on stage.
#3 – Cleaning Up Your Pedals
If you find it annoying to have the manufacturer's labels stuck to your pedals or Velcro from where you've had the pedal connected to the board, you may have trouble removing them. It's a sure-fire way to ruin the aesthetic pleasure you get from each pedal.
The best way to remove glue or sticky residue is using heat. You can use a hair dryer to heat everything up for a few minutes (make sure you don't set it on fire!) and then the marks should easily peel or scrape off without causing damage to the pedal itself.
#4 – Quickly Diagnose Technical Issues
When you have a bank of guitar pedals together, and something goes wrong, it can be incredibly time-consuming to figure out what's gone wrong. This is even more of a problem if you're playing on stage at the time.
Fortunately, it's quick and easy to create your own diagnostic kit so you can test out each connection quickly, allowing you to fix it even faster. All you need is a basic circuit board with an LED light, a cable end and some alligator clips.
Simply connect everything up and then use the alligator clip to test the signal strength. Once you've discovered the area of the pedalboard that doesn't light up, you'll know exactly where things have gone wrong!
About the Author: Gavin Whitner is a seasoned guitarist, and music blogger at MusicOomph. An avid sports fan, he doesn't miss a single race of Mo Farah (favorite athlete!) or Daniel Ricciardo (favorite F1 driver!).
[amazon_link asins='B00IOSJ72M,B000KIRT74,B06X16YKPP,B00GMCCPR6,B01CDTRKLM,B000RW2DUQ,B073Q28HVN,B00GRRN2RI,B00MO6KKSK' template='ProductCarousel' store='maasc-20′ marketplace='US' link_id='a54b3e41-9a46-11e8-b101-1924ebe65412′]
[amazon_link asins='B00WT7KPCK,B00SXBPKUI,B079Y5DCP2,B012P8B1IO,B07659S4BB,B00OBWXTLA,B00MY98PUC,B016XYIYTA,B01I8VCDX4′ template='ProductCarousel' store='maasc-20′ marketplace='US' link_id='b07d73f6-9a46-11e8-94ea-bf06f9e6a464′]
[amazon_link asins='B078YK4MWH,B000T4SI1K,B000T4PJC6,B00WXYAS7G,B00UZGCD2W,B000RW0ECK,B00XLYES6O,B00TSCFIDA,B0034YZFGS' template='ProductCarousel' store='maasc-20′ marketplace='US' link_id='d72a45cb-9a46-11e8-be30-431876c20a46′]