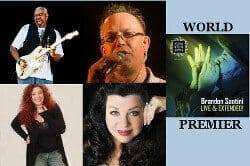 SHOW # 250 – 01/05/15 – IBC PREVIEW

ZAC HARMON – 2004 Band Challenge Winner
Zac gave us insight into how he found out about the IBC and his first time coming to the Challenge. He used the words 'be yourself' a few times in describing the most important attribute a Challenger can have. In fact, that became the theme of the show with all of my guests on this night.

JOE WHITMER – COO Blues Foundation – Segment Begins At The 32:29 Mark
Great insight from Joe and the pitfalls that can happen to a Challenger even before they get to Memphis and after they arrive. He explained the necessity of the deadlines put into place and why it is so important for the correct information to be transmitted to the Blues Foundation. We talked about the other events that take place during the week that are geared to, not only Challengers, but fans alike.

BRANDON SANTINI – COUCH KID NEW MUSIC – WORLD PREMIER "Live & Extended"
Segment Begins At The 1:00:00 Mark
Brandon returned to World Premier his new album which releases on February 27, 2015. We spoke about the album, the event at which it was recorded and the actual mixing of this new release. We also discussed his upcoming album release events and the tour to celebrate the release oflbum including being part of the Joe Bonnamassa Keeping The Blues Alive At Sea event. We also shared a number of songs from the album.

MARY BRIDGET DAVIES – Band Challenge 2nd Place 2011
Segment Begins At the 1:49:29 Mark
Mary spoke about her first time at the Challenge (2005) and the effect the event had on she and her band and how she approached her second visit that put her on the finals stage. She explained why she decided not to come back and try again and offered some insightful advice to those who are coming to Memphis this year or in future years. We also discussed the results of her coming to Memhis on her career and her last year which included a Tony Award Nomination for her portrayal of Janis Joplin on Broadway

PAULA HARRIS – Band Challenge 3rd Place 2012 – Segment Begins At The 2:23:00 Mark
After taking 3rd place at the event, Paula wrote, in my opinion, the definitive article on how to prepare for the IBC and she and I discussed key points of the article. She also shared some sage advice to all Challengers about how to adjust your attitude coming into the Challenge. She has acted as a judge and she shared some insight into her attitude while judging the event, which should be heard. You can read Paula's article HERE
To listen:
1) Listen right from www.musiconthecouch.com at: http://www.musiconthecouch.com/#!2015-ibc/cwux SHOW # 250
2) This URL will either let your episode play automatically or will download the episode to your computer: