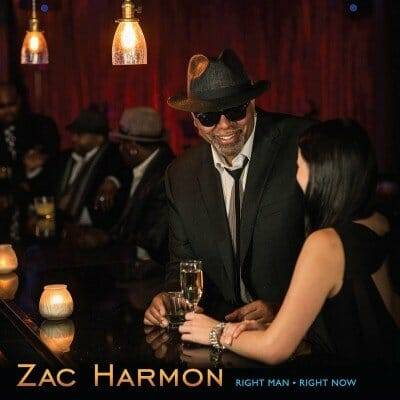 Zac Harmon
Right Man Right Now
Blind Pig Records
Zac Harmon hails from Jackson, Ms. As a young man guitarist Harmon backed up Z.Z. Hill, Sam Myers, and Dorothy Moore. Later Harmon moved to Los Angeles and became a songwriter/producer. Harmon worked with the reggae band Black Uhuru and they received a Grammy nomination in 1994. He also worked with the O'Jays and others. Harmon released his own three song solo EP in 2002.
Harmon's first full length soul blues recording was 2005's "The Blues According to Zacariah" and it won him a Blues Music Award for Best New Artist Debut in 2006. In 2009 Harmon released "Road to Nowhere" on the Northern Blues record label. Now on Blind Pig Records "Right Man Right Now" is Harmon's sixth recording overall.
The band consists of Harmon, lead and rhythm guitar, keyboards, and vocals; Buthel, bass; Cedric Goodman, drums; and Cory Lacy, keyboards.
Harmon contributes nine new originals as he opens the album with "Raising Hell". The lyric "so get behind me Satan cause we're about to raise some hell" is followed by a wicked organ solo from Lucky Peterson. Then after the second chorus guitarist Anson Funderburgh takes his own devilish solo.
"Ball & Chain" is drivin by the solid rhythm section of bassist Buthel and drummer Goodman. This time it's Lacy on the keys. Harmon's voice has a soulful clarity offset by his own higher pitched voice heard in the background.
"Hump in Your Back" features the horn section of Les Kepics, trumpet and Chuck Phillips, sax. It turns into a vocal duet with Bobby Rush. After Harmon's guitar solo Rush takes one on harmonica.
Four of the songs included were written by Harmon with John Hahn. They include the title track "Right Man Right Now" (also written with Ray Bailey); "Stand Your Ground"; "Long Live The Blues" (also written with producer Christopher Troy), and my favorite "Back of The Yards". The later features Mike Finnegan on organ.
Included also are two covers. "I'm Bad Like Jesse James" was written by John Lee Hooker and it features a soulful narrative from Harmon; while "Ain't No Big Deal, On You" is from Little Milton Campbell. On the later organist Finnigan sits in again.
Harmon's new album is meticulously produced by Troy and B.R. Million. This soul blues entry should receive a considerable amount of airplay.
Richard Ludmerer
https://open.spotify.com/album/1bVsvBmz0SscMfImYYY11X