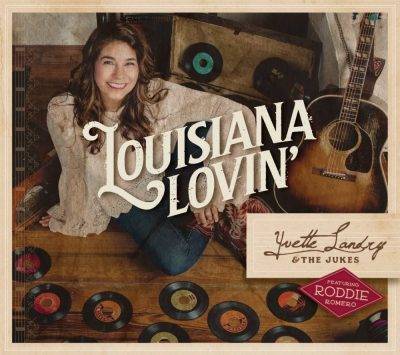 Yvette Landry & The Jukes
Louisiana Lovin'
Soko Music
Yvette Landry hails from Breaux Bridge, Louisiana close to the Atchafalaya Basin, our largest swampland. Growing up there she has an appreciation for the music of her Cajun culture. Her debut album 2010's "Should Have Known" was named Offbeat Magazine's "Best Country/Folk Album" and The Yvette Landry Band named "Best Country/Folk Artist". She has played the New Orleans Jazz and Heritage Festival and traveled all over the world performing her music. Landry is also an educator who has taught both Song Writing and native Sign Language at The University of Louisiana at Lafayette. She also teaches bass, guitar and accordion and has been on stage with Vince Gill & The Time Jumpers and Rhonda Vincent. She has released three follow-up albums and recorded with Bill Kirchen, Cindy Cashdollar, and Roddie Romero. She has also written two children's books both formerly accepted into the Library of Congress Collection for Children's Literature.
Landry is a fine songwriter but for "Louisiana Lovin'" she wanted to pay tribute to her heritage. She wanted to bring the listener "back to a place where dance halls and Juke Joints in Louisiana were the place to be…one could forget all of their troubles and dance the night away…" Landry and Romero previously had a local hit with their remake of "I'm Leaving It Up To You" and they knew they needed to record again.
Landry and Romero decided to record at the famous Dockside Studio in Maurice, Louisiana. Landry, acoustic guitar and vocals, gathered together a new band she named the Jukes. Included are Romero, guitars and vocals; Eric Adcock, keyboards; Derek Huston (who played with both the Iguanas and James Hunter), tenor and baritone saxophones; and the rhythm section of Josef Butts, upright bass; and Jermaine Prejean, drums and percussion. Guest musicians include Richard Comeaux, pedal steel; and Beau Thomas, fiddle. The album is co-produced by Landry, Romero and the Dockside's Justin Tocket.
The fabulous song selection begins with "I Need Somebody Bad (Tonight)" written by songwriter Ben Peters who wrote songs for Charlie Pride. It was a hit single for country singer Jack Greene in 1973. Landry's vocal is both classic and sultry as she sings "cause I just lost somebody good". Comeaux is featured on pedal steel.
Four songs are included from Robert Charles Guidry a.k.a. Bobby Charles. Charles was born in Abbeville, Louisiana and authored "See You Later, Alligator" and later worked with members of The Band. Three of the four songs are performed as duets with Romero. "Take It Easy Greasy" was originally waxed in 1956 and features Huston on sax. The other duets are "Yea, Yea, Baby" and "Homesick Blues" with Thomas on fiddle. "Grow Too Old" is sung by Romero. These are beautiful performances. Sadly, Charles passed in 2010.
"I Almost Lost My Mind" written by Ivory Joe Hunter was a #1 R n' B hit for him in 1950. In 1956 it was a hit again for Pat Boone. It's been recorded numerous times in various genres by Fats Domino, The Everly Brothers, The Harptones, Solomon Burke, James Cotton, The Legendary Blues Band, and others. It is another duet by Landry and Romero.
"Daddy, Daddy" was authored by Monroe, Louisiana's Rudolph Toombs who wrote songs for Ruth Brown, the song was a single for Brown in 1952; featured is Adcock on piano.
Another duet "My Last Date With You" co-written by Boudleaux Bryant, Floyd Cramer and Skeeter Davis, was a hit for Davis in 1960. "Kiss Tomorrow Goodbye" from Alfred Lloyd Reed Jr. was a 1962 single for Danny White. "Three Chords and The Truth" co-written by country singer-songwriter Sara Evans was a hit for Evans in 1997.
The closer "Forbidden Love" is from Rueben David Egan a pianist, and singer-songwriter from Lafayette Louisiana who wrote songs recorded by Johnny Adams and Etta James. Egan was also a member of two great bands the Lafayette based swamp pop super group "Lil Band O' Gold" also featuring guitarist C.C. Adcock, the Abbeville born drummer Warren Storm and the Mamou, Louisiana born accordionist Steve Riley.
Recorded in 1999 by Egan's other band "File", "Forbidden Love" appears on their album "Hang On to Your Chapeau". "File" founded by Ward Lormand, accordion; and Kevin Shearin, guitar; later welcomed Lafayette's Brian Langlinais. A marvelous songwriter Egan passed in 2016.
Thanks, has to go to Landry and Romero for reminding us of the great musical heritage centered in and around Lafayette. This is a highly recommended recording.
Richard Ludmerer
[amazon_link asins='B07CZV3H8S,B07CZSMZQB,B07CZV5TZS,B07CZTZWNH,B07CZTTC5S,B07CZTT79S,B07CZTPHBK,B07CZTF9YY,B07CZSWTFG' template='ProductCarousel' store='maasc-20′ marketplace='US' link_id='2c20ae64-92c2-11e8-bf10-ddb8557d0ff0′]