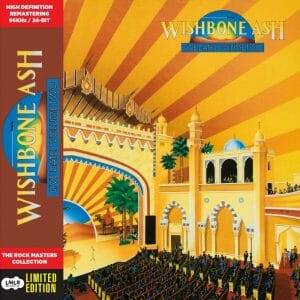 Wishbone Ash: "Live Dates II" Paper Sleeve – 2CD Deluxe Vinyl Replica – Import – Limited Collector's Edition, Original recording re-mastered (LMLR) www.CultureFactory.fr
Digitally re-mastered and expanded in a mini-LP sleeve. "Live Dates II" was the second Wishbone Ash live release. These songs are from a variety of concerts from 1976 to 1980.
During the early- and mid-'70s, Wishbone Ash were one of England's most overlooked rock acts. After four studio albums they released a live album simply titled "Live Dates" in '73, and in 1980 they released another live album titled "Live Dates II," originally released in Britain as a limited edition (twenty-five thousand copies) album. This two CD set version includes twelve titles that originally made their debuts on their previous Wishbone Ash studio recordings.
Live Dates II is a real gem as it's a far better quality live recording than its previous "Live Dates" release, and ranks as perhaps the strongest document of the Wishbone Ash (Mk. II) line-up with guitarists Andy Powell, and Laurie Wisefield, plus bassist Martin Turner and drummer Steve Upton. This lineup of Wishbone Ash is a dream come true for Ash fans and for dueling guitar fans. For example checkout: "F.U.B.B.," and "The Way of the World" for some powerful double axe-wielding guitar annihilations. "Live Dates II" impressively stands the test of time with its generous (twelve) selections, and solid performances of Wishbone Ash classics.
*Note: Vinyl replicas by Culture Factory are limited edition pressings, so when Culture Factory runs out of stock they are out of print and gone forever. They are high quality reissued compact discs that reproduce the dynamics of the original masters/vinyl. Additionally they are also near-exact replica CD's as each disc has a black (vinyl like) look and finish, with the original label LP artwork. So they are very cool looking and (likely) will become highly collectable.
**Note: The Wishbone Ash band will soon be performing at BB King's in NYC on Wednesday September 24th: https://www.bbkingblues.com/bio.php?id=4317
For fifteen years Bob Putignano has been pivotal at WFDU with his Sounds of Blue radio show: www.SoundsofBlue.com – Previously a senior contributing editor at Blues Revue, Blueswax, and Goldmine magazines, currently the Music Editor for the Westchester Guardian Newspaper www.WestchesterGuardian.com and now at: www.MakingAScene.org Bob was the 2003 recipient of the "Keeping the Blues Alive" award (given by the Blues Foundation in Memphis) for his achievements in radio broadcasting. Putignano can be directly contacted at: bob8003@yahoo.com