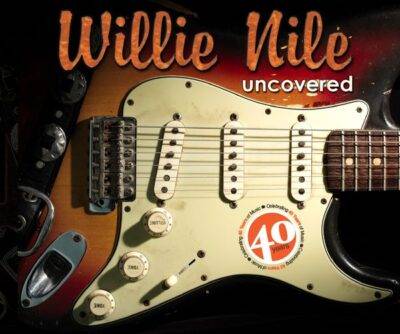 Willie Nile
Uncovered
Paradiddle Records
Willie Nile was born Robert Noonan in Buffalo, N.Y. in 1948. He attended the University of Buffalo; and afterwards relocated to Greenwich Village to pursue a music career. Nile frequented New York's punk rock club CBGB's were he was influenced by the music of the Ramones, the Patti Smith Group, Blondie and the Talking Heads.
The singer-songwriter released his self-titled debut on Arista Records in 1980. That well received album resulted in Nile being invited to join "The Who" on their 1980 summer tour. Niles' third album 1991's "Places I Have Been" released on Columbia Records included guest musicians Richard Thompson. Loudon Wainwright and Roger McGuinn. His last album "New York At Night" was released in May of 2020. Overall Nile has thirteen studio album, one EP, and five live recordings. He is a brilliant songwriter who states "New York City has always inspired me…the songs…reflect my life and experiences iiving in New York…there are ideas and creatures of all kinds walking down every street. The rich, the poor, the lost, the lonely, the big shots, the bullshit artists, the good, the bad, the ugly, all living in this great metropolitan area with people from all over the world and all walks of life. I learn something new every day living there." Nile admirers include Bruce Springsteen, Pete Townshend, Lucinda Williams, Bono, and Little Steven.
Over the course of his career Nile has written many fine songs. When the label owners first conceived of this tribute, "it was planned as a single disc release, but…musicians from far and wide wanted to be involved" and so the project expanded into a double album. Interpretations of his songs are performed by veteran and emerging artists from a range of genre's including rock, Americana, country, roots and folk music.
Included in the twenty-six track collection are noteworthy interpretations from Elliot Murphy, James Maddock, Dan Bern, Richard Barrone, Graham Parker, Nils Lofgren, John Gorka, Lucy Kaplansky, Richard Shindell, Johnny Pisano and others. Among my favorites are "When Levon Sings", a tribute to Levon Helm, by the band Quarter Horse; the Johnny Cash influenced "American Ride" from Gene Casey; and Leland Sundries "The Day I Saw Bo Diddley in Washington Square".
Nile is "humbled and deeply grateful to all the artists involved in this project for taking the time to record such beautiful versions of these songs…when I first heard there was going to be a tribute album I was a little embarrassed…but after a few glasses of red wine and hearing the album I was elated. It was startling to hear such unique, different and poignant interpretations of my songs. Heartfelt thanks to all involved for making this songwriter's journey through the back roads of a soul more than worth the effort."
The New York Times says Nile is "One of the most gifted songwriters to emerge from the New York scene". If you're not already a fan of Willie Nile this collection will offer you the chance to become appreciative of Willie Nile and his songwriting. A joyous pastime for these trying times.
Richard Ludmerer