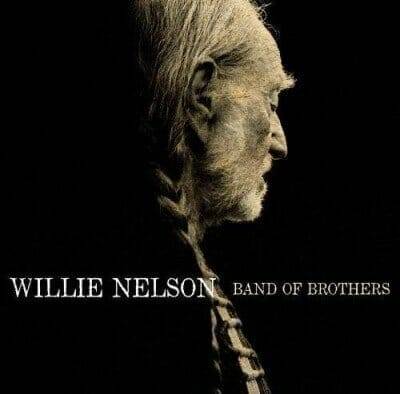 Willie Nelson
Band of Brothers
Sony Legacy Records
Now an octogenarian Willie Nelson is a country music icon. A great vocalist and performer my own interest began in Nelson by listening to other artists.
He is the author of manysongs which became country music standards including the megahit "Crazy" originally recorded by Patsy Cline and released in 1961. Other notable songs composed by Nelson over the years include country music standards "Funny How Time Slips Away", "Bloody Mary Morning", "Sad Songs and Waltzes", the introspective "Hello Walls", and the holiday standard "Pretty Paper". He has written 330 more.
I was into "dead" country music artists especially Patsy Cline, Johnny Horton and Cowboy Copas. I began listening to Nelson in 1968. I purchased Nelson's "Texas in My Soul" album as I loved Western Swing. I was later thrilled by Outlaw Country and 1973's "Shotgun Willie", 1974's "Phases and Stages" and 1975's "Red Headed Stranger". I was not a fan of Nelson's hugely popular "Stardust" album released in 1978. I began being more selective when purchasing Nelson's recordings.
Every few years, however, I would grab onto a new Nelson album. In 1980 it was "Poncho and Lefty" a duet album with Merle Haggard. In 1990 it was "The IRS Tapes: Who'll Buy Memories", the proceeds of which went to satisfy an IRS tax liability incurred by Nelson's accounting firm, Price Waterhouse.
Nelson has appeared in several movies including 1979's "The Electric Horseman". He also appeared in the "Dukes of Hazzard" and made many TV appearances including one on "Miami Vice". Nelson is an activist and a primary partner in 1985's "Farm Aid". He is also an advocate for clean air fuels and for the legalization of marijuana.
Today Nelson's music style is a blend of country, jazz, blues, rock, and folk. He utilizes "a relaxed behind the beat singing style and gut string guitar". His "nasal voice and jazzy off center phrasing" are responsible for his wide popularity.
Nelson's new album "Band of Brothers" is his first album of primarily original songs since 1996's "Spirit" recording. It is his 68th studio album. It is produced by Buddy Cannon who is credited as co-author on most of the originals. To my ears it is the best Nelson album in years.
Nelson's "family" on this recording includes harmonica ace Mickey Raphael, steel guitarist Tommy White, pianist "Moose" Brown, guitarist Bobby Terry, and the rhythm section of Kevin Garrett, bass; and Eddie Bayers, drums.
Originals include "Bring It On", with the lyric "they say there is no gain without pain so I must be gaining a lot". "Guitar in the Corner", "Wives and Girlfriends, may they never meet"; I hit "The Wall"; "I Thought I Left You", "Send Me a Picture" and "Used to Her" featuring Raphael's harp.
Covers include two from Billy Joe Shaver "Hard to Be an Outlaw" and "The Git Go"; two from Dennis Morgan, "Crazy Like Me" and "I've Got a Lot of Traveling To Do"; the Gordie Sampson/Bill Anderson "The Songwriters", and Vince Gill's "Whenever You Come Around".
If you're a real country music enthusiast this new album from Willie Nelson comes highly recommended.
Richard Ludmerer