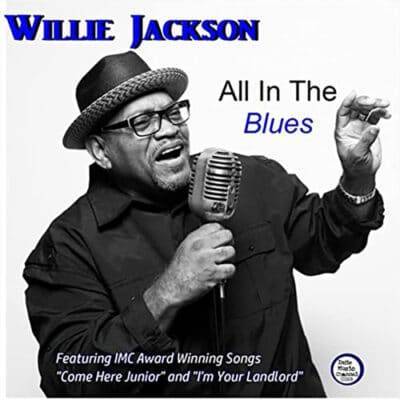 Willie Jackson
All in the Blues
Hailing from Savannah, Georgia, Willie Jackson, the son of a reverend, had worked for the railroad until an accident ended that career.  It was then he decided to dedicate his time on his music and the Blues.  Jackson's brand-new album All in the Blues, follows up quite nicely to his debut 2017 EP release Willie Jackson Blues.  His lyrical mastery and deep velvety vocals quickly grabbed my attention upon the first listen of this twelve-track album.  Carrying a torch for the early post-war blues songs and cleverly utilizing the literary tool of the double entendre, Jackson is a true wordsmith.
The album opens with "I'm Your Landlord" in which Lomax Spalding lays down a funky groove on guitar while Jackson sings about alternative methods of collecting rent.  Jackson keeps the humor in his music as "The Whole Book is Wet" follows up.  This horn-infused song about wet matches is definitely not about camping mishaps.  A hot rhythm section keeps the party going as Jackson shoos away would-be suiters from his woman on "Sticky Hand Blues".  "Hey Gangsta" takes a more serious turn, as Jackson sings about settling up with his daughter's violent-prone boyfriend.  This song absolutely swings with a full band and Trosky Lane's smokin' guitar performance.
With one foot firmly planted in the past and one tethered to the now, Willie Jackson's All in the Blues is one-hundred percent real-deal Blues.
Phillip Smith