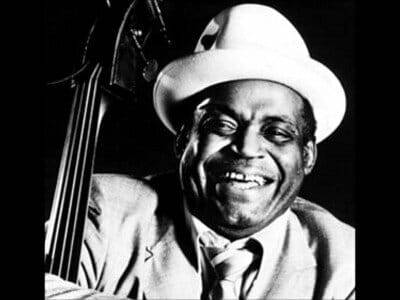 Willie Dixon will be inducted into the Songwriters' Hall of Fame at the 46th Annual Induction and Awards Dinner in New York City June 18 He will be joined by Cyndi Lauper, Robert Hunter & Jerry Garcia, Toby Keith, and Linda Perry.
It is wonderful to see this bluesman recognized by this prestigious organization, as he should be.
Here is the write-up about Dixon from the official press release for the event:
Willie Dixon, one of the most prolific songwriters of all time, has been referred to as "the poet laureate of the blues" and the "father of modern Chicago blues." His songs have been recorded by countless artists across varying genres. "Hoochie Coochie Man," first recorded by Muddy Waters and later by Jimi Hendrix, Chuck Berry and Jimmy Smith, went on to be recognized by The Blues Foundation and the Grammy Hall of Fame for its influence in pop music and in 2004, was selected for preservation by the U.S. Library of Congress National Recording Registry. Also first recorded by Muddy Waters was "I Just Want To Make Love To You," later covered by a wide array of artists including Etta James, Adele, Van Morrison, and The Kinks, among others. One of his best-known compositions was "Little Red Rooster," which was recorded by the Rolling Stones, Sam Cooke, the Grateful Dead, The Doors and Tom Petty and the Heartbreakers, and was included in
the Rock and Roll Hall of Fame's list of the "500 Songs That Shaped Rock & Roll." His other notable songs include "My Babe," "Spoonful" and "You Can't Judge A Book By The Cover." He was inducted into The Blues Hall of Fame in 1980 and posthumously inducted into the Rock and Roll Hall of Fame in the "early influences" (pre-rock) category in 1994.
All fans of the "Hoochie Coochie Man" can be proud of this honor for a blues hero.
https://open.spotify.com/artist/5v8WPpMk60cqZbuZLdXjKY
This article originally appeared at examiner.com