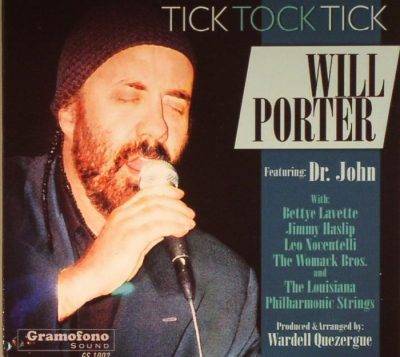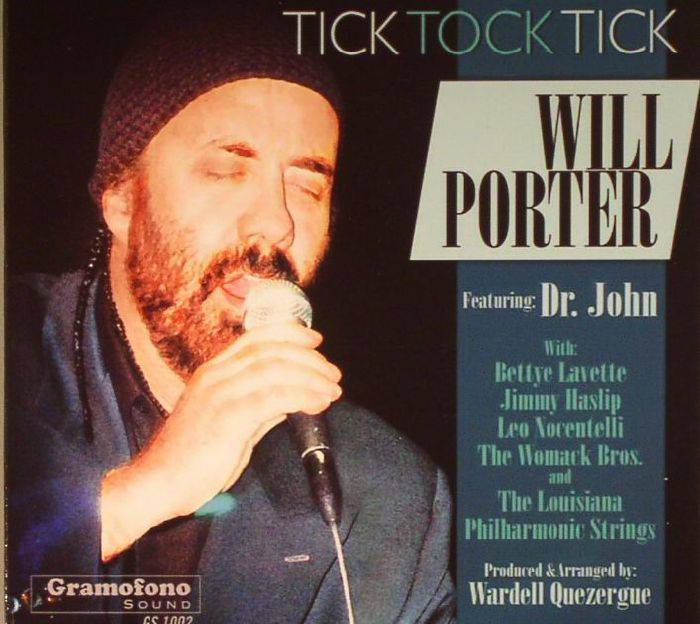 Will Porter
Tick Tock Tick
Gramofono Sound
Will Porter was born in West Virginia in 1959 where as a youngster he sang gospel. He worked with both Skip James and The Reverend Gary Davis before leaving for New York City. He eventually wound up going west to San Francisco where he established a weekly residency at "Minnie's Can Do" in the Fillmore district. He wound up meeting Mary Wells, the Motown singer, and became her musical director. He spent the next fifteen years working as musical director or bandleader for The Shirelles, The Drifters, The Coasters, Little Anthony and Chuck Berry. He also worked with Sam Moore, Percy Sledge, and Del Shannon. He appeared twice at the prestigious San Francisco Blues Festival. Porter met Wardell Quezergue when Quezergue's big band was hired to back Billy Preston, some other acts and himself when they were touring Louisiana and Mississippi.
Quezergue was known among New Orleans musicians as the "Creole Beethoven". After playing in Dave Bartholomew's band in the late 1940's Quezergue worked with Professor Longhair and Fats Domino. In 1964 Quezergue formed Nola Records. His first hit was Robert Parker's "Barefootin'". He signed a production deal with Malaco Records and scored big with King Floyd's "Groove Me". With Stax Records he produced Jean Knight's "Mr. Big Stuff". Quezergue also arranged Dorothy Moore's "Misty Blue". He worked with B.B. King and often with Dr. John.
In 2003 Porter released his first album "Happy" produced by Quezergue featuring Preston, Bunchy Johnson, Barbara Lewis, Leo Nocentilli and New Orleans' best musicians. The critically acclaimed recording was among the best cd's of that year and awarded four stars by the All Music Guide who commented "recalls an era when Otis Redding reigned supreme…Porter shows himself to be a heavy-duty soulster who can handle Jazz and the Blues equally well".
Work was begun on this follow-up recording. The band remained the same with Thaddeus Richard, keys; Todd Duke, guitar; Brian Quezergue, bass; Bernard "Bunchy" Johnson or Doug Belote, drums; Mic Gillete, from Tower of Power, trumpet and trombone and Johnnie Bamont, saxes. Producer Quezergue states "Someone told me that, of the hundreds of records I have made during my career, it appears that I have cut more tracks on Dr John (multiple albums) and Will Porter (26 tracks) than any other artists". Unfortunately Johnson passed; and then Quezergue passed in September of 2011 at the age of 81. This album was finally completed and released in the US in January of 2016.
Porter and Dr. John perform a vocal duet on the title track "Tick, Tock, Tick", written by Dr. John who also plays keyboards, and which opens the album. Porter's rich warm baritone voice combines with Dr. John's raspy one. Quezergue wanted Dr. John to have a funk/pop hit again. The Womack Brother's (Curtis and Bobby) sing the background vocals. The song is also known as "I Thought The Change Would Do You Good".
The other Porter/Dr. John duet written by Dr. John with Jessie Hill is "When The Battle is Over"; again Dr. John is on keyboards; Leo Nocentilli, on guitar; and the Womack's provide the background vocals.
"Why Do We Get Blue" is a ballad written by Porter with a string arrangement by Quezergue. Grammy winner Jimmy Haslip of The Yellowjackets plays bass.
Porter sings a duet with Betty Lavette on Bob Dylan's "Make You Feel My Love" and it's another great track. At the beginning Quezergue can be heard counting off the beats.
"I'm Blue" written by Ike Turner was a hit for The Ikettes in 1962. The horn section gets funky.
"California Sun" is a country-tinged ballad written by Porter. Here the Womack Brothers sound like Sam Cooke's Soul Stirrers. Again Quezergue can be heard counting off the beats before we get to hear his beautiful string arrangement.
"I Can Do Bad by Myself" written by Porter is a bluesy song and another chance to hear his beautiful baritone. Nocentelli is again on guitar. Porter's beautiful lyrics are again accompanied by Quezergue's strings.
"Don't Go To Strangers" was a hit for Etta Jones in the late 1960's and also recorded by Johnny Adams. Porter's vocal is absolutely beautiful.
"Treadin Water" by Porter is an upbeat song with sax and organ reminiscent of those that came out of The Stax studios.
"Tear It Up" was originally written and recorded sixty years ago by Johnny Burnette and The Rock n' Roll Trio. Quezergue uses the horns to turn it into a funky number.
The closer "Everything's Gonna Be Alright" was a gospel number by the Detroit based Bill Moss & The Celestials. Once again it features the Womack Brothers singing the background vocal.
Suffice it to say that albums like this are not made anymore. Quezergue, The Creole Beethoven new exactly how he wanted each of these songs to sound way before they were recorded. The attention to detail, the vocals, the horn charts and string arrangements are just perfect.
Like Quezergue said "Will Porter is subtle, expressive, deep, and soulful". This is the soul blues album of the year.
Richard Ludmerer