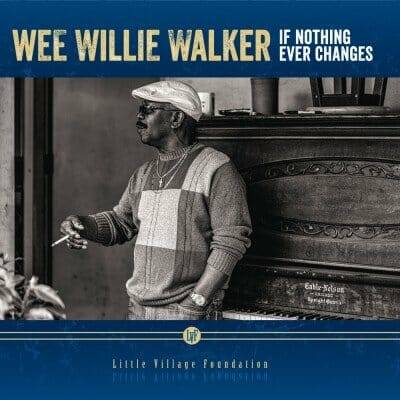 Wee Willie Walker
If Nothing Ever Changes
Little Village Foundation
In 1960 Wee Willie Walker was a member of the gospel group The Redemption Harmonizers. After relocating in Minnesota he would often return to Memphis and in 1968 he recorded nine secular "sides" for Goldwax Records. Four of these were leased to Checker Records a subsidiary of Chess. Two of his singles were "You Name It, I've Had It", and "From Warm to Cool, to Cold". Although recognized as gems of the soul music genre these singles were known only to a few. In 1987 Walker opened for John Lee Hooker when Hooker was backed by the local twin cities soul and R n' B band The Butanes. For the last ten years Walker has kept busy by performing and recording three albums with The Butanes the last being 2011's "Long Time Thing"".
Two years ago Julia Schroeder, Walker's manager, introduced Walker to Rick Estrin. Estrin realized that Walker's voice was still as strong as ever and that he was one of those great soul-singers that just did not make it. His idea was to record a new album for Walker at Kid Anderson's Greaseland studios.
Estrin and Anderson quickly enlisted Jimmy Pugh to play keyboards. Collectively they realized that the production of this new studio recording would be a costly venture but it wasn't about the money. It was about making some beautiful new music with Walker and furthering this nearly extinct genre. It was Pugh's idea to create The Little Village Foundation to search out, discover and record music that otherwise would not be heard.
The band includes J. Hansen, drums and percussion; Randy Bermudes, bass; Pugh, piano and organ; Kid Anderson, Bob Welsh and Rusty Zinn, guitars; Terry Hanck, Nancy Wright, Eric Spaulding, and Frankie Ramos, saxes; John Halblieb, Manny Angel, and Tom Poole, trumpets; and Farris Jarrah, trombone. Background vocalists include Lisa Anderson, Donnie Woodruff, Will Russ, and Dennis Dove. Guest Musicians include Nate Ginsberg, Lorenzo Farrell, and Estrin.
The song selection is interesting. Walker opens with "Read Between The Lines" written by Clarence "Blowfly" Reid, a Miami based songwriter and performer, who also wrote Betty Wright's "Clean Up Woman"; and who at the time worked for Willie Clarke's Deep City Records.
Lennon and McCartney's "Help!" is slowed down and becomes a vocal duet for Walker and special guest Curtis Salgado. "Everybody Meets Mr. Blue" and "Hymn For Lonely Hearts", were both written by Eddie Hinton the guitarist from The Muscle Shoals Rhythm Section. "I've Been Watching You" is from Bobby Rush. "Funky Way" was written by Calvin Arnold and originally recorded by Rufus Thomas in 1970. The title track "If Nothing Ever Changes" was written by keyboardist Bruce Pedalty.
Country music provides sensitive lyrics for a soul singer. Included are "I Don't Remember Loving You" written by Bobby Braddock and Harlan Howard and sung by John Conlee in 1982; and "Not That I Care" written and sung by Cindy Walker and later covered by Willie Nelson.
Estrin loves the soul music genre as much as he does the Chicago Blues sound that he re-creates. Estrin has written "Is That It" and "What Love Can Do" (with a horn arrangement by Mike Rinta) and co-written another, the "Hands of Time", with co-producer Anderson.
Walker is a singer as emotive as any of the classic soul singers such as Sam Cooke, Wilson Pickett, Solomon Burke and Johnnie Taylor. Estrin and Anderson's production make this album a Blues Music Award nominee for both Soul Blues Album of The Year, and Album of The Year. Walker also received a nomination as Soul Blues Male Artist of The Year.
"If Nothing Ever Changes" it would be o.k. but Walker should be heard by a whole new generation.
Richard Ludmerer