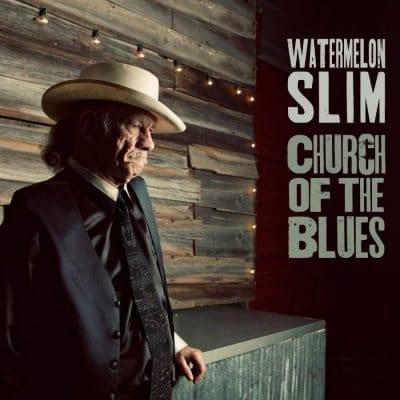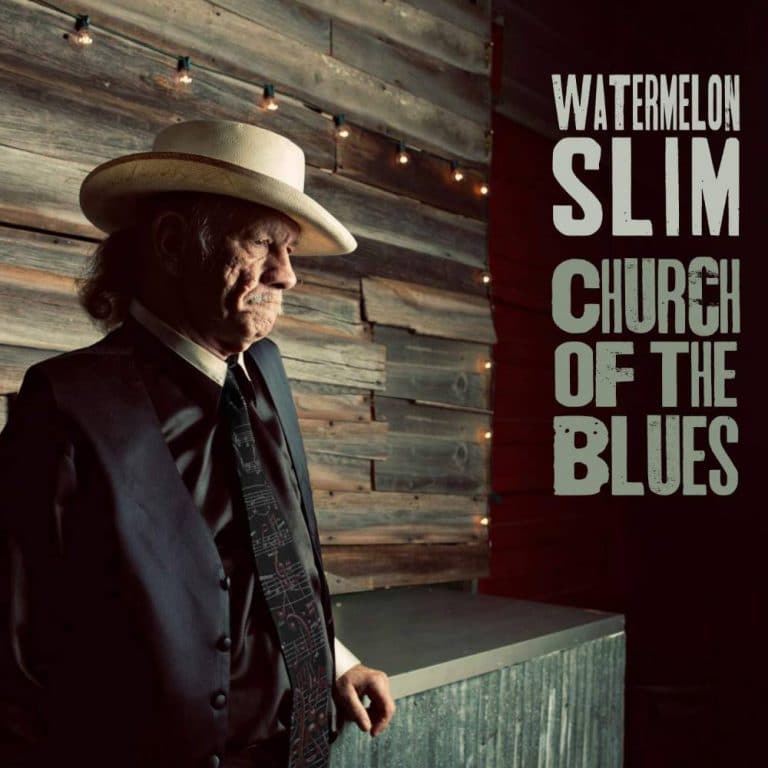 Watermelon Slim
Church of The Blues
Northern Blues Music
William P. Homans III was born in Boston but raised in North Carolina where he first heard the blues. He rejected his family's career aspirations and served in Vietnam. When he returned home in 1973 he became involved in "Vietnam Veterans Against the War" and recorded an anti-war album called "Merry Airbrakes". Homans worked as a forklift driver, newspaper reporter, watermelon farmer and truck driver, while still learning to play guitar and harmonica. He once "said that watermelons were the one crop on which he never lost money". He didn't record again until 1999 when he recorded an EP with his then band "Fried Okra Jones".
Homans' first national release under the name Watermelon Slim was 2002's "Big Shoes To Fill". He followed up with 2004's "Up Close and Personal", with his band now called The Workers, featuring fourteen Delta and country blues originals, and four covers. As a direct result Slim received a 2005 Blues Music Award/Handy nomination for "Best New Artist Debut". In 2007 the self-titled "Watermelon Slim and The Workers" received six additional BMA nominations including nods in the categories of Traditional Blues Album and Traditional Blues Male Artist. In 2007 Watermelon Slim and The Workers released "The Wheel Man" and received six more 2008 nominations this time winning for both "Album of The Year" and "Band of The Year".
This is his eleventh album as Watermelon Slim who now makes Clarksdale, Ms. his home. The Workers currently include Slim, electric slide guitar, harmonica and vocals; John Allouise, bass; and Brian Wills, drums. The album is co- produced by Slim and Chris "Wick" Hardwick.
The opening track "St. Peter's Ledger" is about getting into heaven. It was written by Ronnie Lereaux Meadors a truck driver friend and fellow harmonica player. Slim plays slide on a resonator guitar while special guest Bob Margolin plays lead. It's been said Slim is "one hell of a bottleneck guitarist, and he's got that cry the greatest singers in the genre have had before him". "Tax Man Blues" from Oregon's Tom W. McFarland features Hardwick on guitar and Red Young on piano.
Muddy Waters' "Gypsy Woman" was first recorded in 1948 on Aristocrat Records; Slim plays harp while the ex-Muddy Waters guitarist Margolin takes over, Chris Wiser is added on keys. Allen Toussaint's "Get Out of My Life Woman", a 1965 single for Lee Dorsey, features the vocal trio of Slim, Sherman Holmes, and John Nemeth. The funky "Me and My Woman" from Gene Barge features Albert Castiglia on guitar and Slim on harp. "Smokestack Lightning" is the Howlin' Wolf classic. On Mississippi Fred McDowell's "Highway 61" Slim plays some great slide; McDowell was a major influence on Slim who sings "If you see me sickly and think my time has come, won't you bury me by Highway 61…goodbye baby". All of the selected covers are performed in Slim's inimitable style.
Slim also includes seven new originals. "Post Modern Blues" features Nick Schnebelen on slide and a horn section including Matt Blagg, trumpet; Chris Hicks, saxophone; and Kevin Webb, trombone. The horns are featured again on "MNI Wiconi – The Water Song" with some discordant guitar from Joe Louis Walker and the lyric "if we don't care about our water we don't care who we kill".
My favorites include "That Ole 1-4-5" with ex-Workers Ike Lamb on guitar; "Holler#4" featuring Slim's cryin' field holler with just Wells' bass drum; the fabulous "Too Much Alcohol" with Slim trading guitar licks with Albert Castiglia; and "Charlottesville (Blues For My Nation)" featuring John Nemeth and Young on piano.
A bonus track closes out the album; "Halloween Blues" features Lamb on guitar and Wiser on organ with some great bass from Allouise. You'll crack a smile as Slim sings "my baby's so ugly she don't need no costume when she's out on Halloween".
This is thoroughly enjoyable traditional blues. In fact "Church of The Blues" is so compelling it might be Slim's best yet.
Richard Ludmerer
[amazon_link asins='B07KLFLYBH,B000E0LMBC,B00CVHAU8C,B06XCM6XMM,B000NJKYUE,B0002IQCZ2,B003M1HS2M,B003X8CWB6,B0018JKFXE' template='ProductCarousel' store='maasc-20′ marketplace='US' link_id='77391f45-9cdc-4ef7-bf4d-284c8e9e40ab']