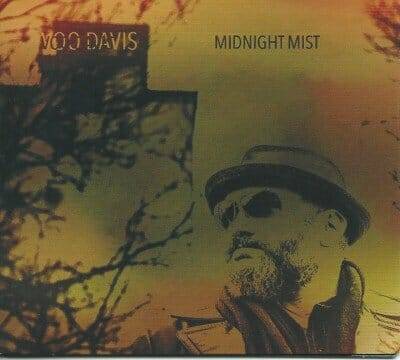 Voo Davis
Midnight Mist
Butter & Bacon Records
Brian "Voo" Davis was born in Anniston, Alabama. While still an adolescent Davis' family moved to Chicago. As a result Davis' southern musical upbringing received an injection of northern attitude; similar perhaps to other musicians who came before him.
Davis toured with Eddie King. King was Koko Taylor's guitarist and a Blues Music Award winner in 1998. Goldmine Magazine describes Davis' music as a combination of Jimi Hendrix, Buddy Guy, and R.L. Burnside. His musical gumbo ingredients include a recipe of blues, Americana and jam band spices.
Davis' released his first recording "A Place For Secrets" in 2012. It received attention from Americana and Roots oriented radio. Davis' sophomore effort was 2013's "Vicious Things". This new recording is only Davis' third album.
The band on this recording includes Davis: vocals, guitar, pedal steel, mandolin, and keyboards; Michael Burkart, Hammond organ; Calvin Conway, harmonica and fiddle; and the rhythm section of Reggie Winterland, bass; and Craig Borchers, drums. The background singers are Carolyn Broussard and Dorian Rush. The album was recorded at Bogalusa, Louisiana's "Studio in the Country".
Davis' states that he spent more time on the songwriting and production than on his previous albums as all of the songs were written by him. Davis opens with "When I Get Back to You". Davis' takes an impressive guitar solo. Vocally he has been compared to Joe Cocker. Instrumentally the sound is closer to alternative rock than to a blues band especially on "Cajun Sun".
The title track "Midnight Mist" features Davis on guitar, mandolin and pedal steel. "Find Me a Blackbone" is co-written with Dan Rinenbach. Davis is accompanied only by the rhythm section of Winterland and Borchers. On both "Howling Out Your Name" and "Void" Davis plays all of the instruments.
One of the highlights is "Riverside Blues". Davis plays guitars and keyboards. It is included as both an audio track and also as a video. The excellent Videography is by Ben Rinenbach. The video includes wonderful footage taken in and around Clarksdale, Mississippi.
You can expect some nice musical surprises which hold up well with repeat listening. The future bodes well for Voo Davis.
Richard Ludmerer
https://youtu.be/mveQgQCGgmc