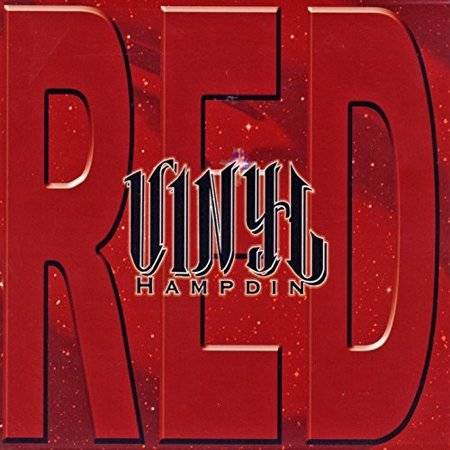 Vinyl Hampdin
Red
Armored
Steve Wiest, the founding member of the jazz-rock collective Vinyl Hampdin, sums it up this way, "What would Chicago, Blood, Sweat & Tears and Tower of Power sound like if they started out today?" That's a tantalizing question that probably describes the band's approach better than this writer can. In any case, now that you're here, keep reading. The concept and pedigree of the musicians is rather stunning for this debut effort.
There's a descriptor that the same trombonist/composer/arranger Wiest uses as the subtitle for the band – "Rocked Out Seriously Funky Jaw Dropping Ear Candy." The background of these musicians extends from DJ Logic to Maynard Ferguson to Carmen McCrae to the current band Chicago. Taking his cue from Charles Mingus, Wiest recruited players with big voices, including lead singer, the explosive Lisa Dodd, multiple Canadian award winner on bass and vocals from the Gord Bamford Band. She needs all that power to project against a 4-horn, 4-rhythm ensemble. They are only nine, but they sound like twice that number.
Wiest and Dodd combined to write/co-write five of the eleven tunes, choosing both familiar and rather unpredictable covers for the mix. The arrangements make tunes like the AM radio hits "Flowers on the Wall" and "I Just Want to Celebrate" almost unrecognizable. The other notable covers may be a bit more familiar, but the arrangements, solos, and energetic pulses are just as dazzling. They begin by covering Stevie Wonder's "Superstitious," Bonne Raitt's "The Road Is My Middle Name," Paul and Linda McCartney's "My Love' and Bill Withers' "Use Me."
Comprised of:
Ryan Davidson (guitar) acclaimed Canadian award winner
Stockton Helbing (drums) (Maynard Ferguson, Doc Severinsen)
Eric Gunnison (keyboards), Gerald Stockton (bass) (Michael Brecker)
Frank Greene (trumpet) (Paul Shaffer, Roy Hargrove)
Ray Hermann (woodwinds- mostly tenor sax) (Chicago)
Art Bouton (baritone sax and flute) (Denver and Philadelphia Symphony Orchestras)
along with Wiest (Maynard Ferguson) and Dodd, they are a versatile unit, brining unflagging intensity as well as subtle accompaniment with solid ensemble work. The solos are the epitome of "get in, say it strong and get out." No one soloist, excepting Dodd's vocals, gets an unfair share of the spotlight. It's an exercise in tightly woven group interplay. Horns often play the guitar and keyboards lines on the original cover tunes, but Gunnison and Davidson find plenty of opportunities to also make their statements. Wiest has a natural tendency to be an inventive arranger, but he knows better than to mess with an artist like Stevie Wonder's horn and synthesizer lines in "Superstition." Yet he still manages to throw us a curveball. Bouton' baritone sax takes the lead, the syncopation is filthy funky, and Gunnison bursts forth with a sparkling piano solo.
There's no filler here. It's packed with great tunes. Let's just cite three: the arrangement of the Statler Brothers 1966 hit "Flowers on the Wall" is given a spoken word/funked out/horn drenched fascinating treatment. Wiest's tune "One Song" has elements of a classical concerto and offers perhaps Dodd's biggest vocal challenge that she pulls off flawlessly, dripping with emotion throughout. While the Statler Brothers may have meant it as a lament. Vinyl Hampdin just has wild fun with it. Similarly, if Withers was bemoaning in his original, the VH version is completely joyous with Davidson taking a wild excursion on wah-wah guitar.
Check the Vinyl Hampdin website for more on this "Rocked Out, Incredibly Funky, Jaw Dropping Ear Candy." You'll find lengthy bios on each of the musicians and might also notice this announcement. Grammy nominated sax player, Sly5Avenue is joining the collective. This is as strong as a debut gets –it's breathtaking!
[amazon_link asins='B076CQTRJH,B076CPR14B,B076CPW42Y,B076CRPF6D,B076CQXRY2,B076CQKKQW,B076CQ3HRT,B076CPYCY3′ template='ProductCarousel' store='maasc-20′ marketplace='US' link_id='c7dae988-a153-11e8-b7cd-a9529cdf6ccc']