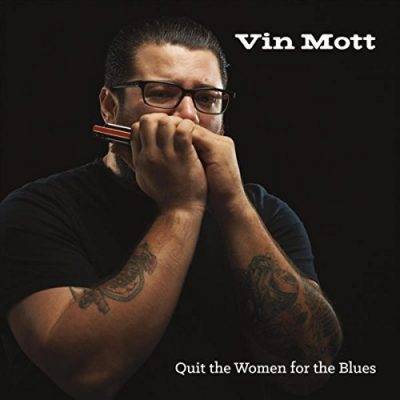 Vin Mott
Quit the Women for the Blues
Independent
Vin Mott is from Pequannock, N.J. While still a teen he got bit by the blues bug; it was the sound of the blues harp. His influences included Muddy Waters, Little Walter, and James Cotton. Mott studied at the Berklee College of Music in Boston and graduated in 2011 with a degree in songwriting. He returned to NJ and began to take gigs with his friend guitarist Sean Ronan. Mott played venues like the Great Notch Inn in Little Falls, the Robin's Nest Rhythm & Blues in Linden, Hat City Kitchen in Orange, and Ruthie's BBQ & Pizza in Montclair. He started branching out into Eastern Pa. and developing a reputation as a front man. This is his debut album.
The Vin Mott Rhythm and Blues Band consists of Mott, harp and vocals; Ronan, guitar; the versatile Dean Shot, electric and upright bass; Andrei Koribanics, drums; and Phil Silverberg, organ. All of the songs are written by Mott. The album was mixed and mastered by Silverberg.
The opening title track "Quit the Women (For The Blues)" is modeled after Howlin Wolf's "Killing Floor" written and recorded in 1964 with Hubert Sumlin on guitar; it was recorded again in 1968 by The Electric Flag. Mott's song is a good one and a great way to start off this debut recording.
"Make Up Your Mind"…"I'm sick and tired of waiting for you to make up your mind". Mott's harp solo leaves little doubt about his abilities. Mott's solo is followed by one from Ronan on guitar. Silverberg adds the finishing touches on the organ.
"Don't Make Me Laugh"… "you been acting funny baby don't make me laugh". Mott's harp say's it all…Ronan kills it again…"even the couch is tired of that ass".
"I'm A Filthy Man" is a house rockin tune with some Elmore James styled guitar from Ronan.
"The Factory"….."can't drink no more whiskey, can't smoke no more weed…this livin ain't much livin, been beaten down by the factory…I've been working all around the clock…got stuck on third shift oh what a shock…this livin ain't much livin, I've been beaten down by the factory". It's a sad tale but it happens. This is a great song 'cause it happened to me.
"Freight Train" opens with the sound of an oncoming train played on harp by Mott. Koribanics picks up the speed on his drums. Shot's spewing steam from his upright. Ronan's solo speaks of a touch of rockabilly. This has got to be a crowd pleaser.
"I Wanna Get Ruff With You"…"for the way you been treatin' me".
"Ol' Greasy Blues" "I want to teach you baby just how to reel and rock"; more great harp and guitar.
"Living The Blues" is a well written slow blues…"cant play no more records, can't go outside, the thought of that woman, make me angry inside".
"Hott Mott's Theme" is a hot harp instrumental that closes the session.
It's an old school sound and the recording displays a natural talent, good songwriting, and like a high jumper "he's up and over the bar". An auspicious debut.
Richard Ludmerer
Products from Amazon.com
‹
›