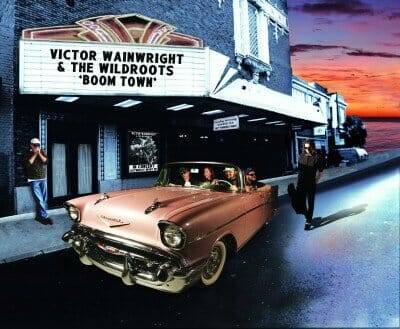 Victor Wainwright & The Wild Roots
Boom Town
Blind Pig Records
Victor Wainwright was born in Savannah. He attended college in Daytona and moved to Memphis where he was employed during the day as an Air Traffic Controller at Memphis International Airport. At night he honed his piano skills in the clubs along Beale Street.
Wainwright met bassist Stephen Dees in 2004. He released his first recording "Piana from Savannah" in 2005. It was produced by Dees who also became his writing partner. In 2009 Wainwright released "Beale Street to the Bayou" and he followed up with 2011's "Lit Up!" which garnered him his first Blues Music Award nomination.
In 2011 Wainwright also joined with J.P. Soars and Damon Fowler and began the super group "Southern Hospitality". In 2013 "SoHo" released "Easy Livin'" produced by Tab Benoit also on Blind Pig Records. In both 2013 and 2014 Wainwright was the recipient of the Pinetop Perkins Piano Player of The Year award at the Blues Music Awards.
The band on this new recording consists of Wainwright, vocals and keyboards; producer Dees, bass; Nick Black, guitar; Stephen Kampa, harmonica; Billy Dean, drums; and Patricia Ann Dees, Charlie DeChant, and Ray Guiser, saxophones.
Dees and Wainwright are so in sync that Dees has authored ten of the thirteen songs on his own. Dees' songs include the opener "Boom Town"; "Wildroot Farm" featuring Wainwright in a vocal duet with Patricia Ann; "When The Day is Done" with Beth McKee singing backup; and "Back On Top" with guitarist Robert "Top" Thomas sitting in.
"Genuine Southern Hospitality" reminds us of that other band. My favorites are "If It Ain't Got Soul", and the dirge "The Devil's Bite" which includes special guest JP Soars on acoustic lead guitar. "Wild Root Rumble" is an instrumental showcasing the band.
Two songs are reprised from Wainwright's first album. Wainwright recreates "Two Lane Blacktop" rearranged by Dees; and the fabulous instrumental "Piana's Savannah Boogie". "Saturday Night Sunday Morning" was co-written by Wainwright and Dees.
The album is a good time from Wainwright whose musical talents and persona continue to delight.
Richard Ludmerer