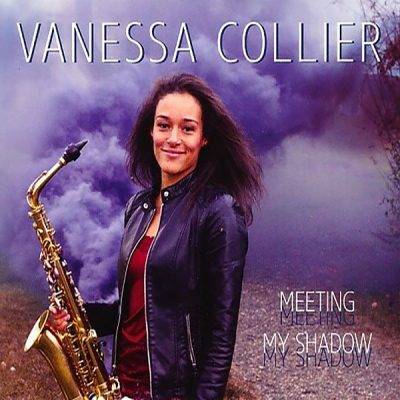 Vanessa Collier
Meeting My Shadow
Ruf Records
Vanessa Collier hails from Clarksville, Maryland where she attended River Hill High School. While a student at River Hill she was co-captain of the Girls Basketball team as well as a soloist with their Jazz band.
Collier attended the Berklee College of Music in Boston where she graduated with degrees in Performance, Music Production and Engineering. In 2012 she spent eighteen months touring the US and Turkey with the Grammy Award winning Joe Louis Walker. She has played on stage with Annie Lennox, Kathy Mattea and Willie Nelson.
In 2014 Collier released her debut album "Heart Soul and Saxophone". Her mixture of blues, rock, soul and funk resulted in her being named a 2014 Best of Blues Breaker on Dan Aykroyd's House of Blues radio show. In 2016 she competed in the International Blues Challenge in Memphis.
Collier signed with Ruf Records and although her new studio album "Meeting My Shadow" isn't to be released until March 24th, 2017 it is already receiving airplay on Blues radio stations across the country. The new album is co-produced by Collier, Kevin Houston and Thomas Ruf.
The band includes Collier on alto, soprano and tenor saxophones, flute, Rhodes, Wurlitzer, organ, Clavinet, percussion and vocals; TK Jackson, drums, percussion, and organ; Daniel McKee, bass; Laura Chavez, guitars; the Hi Rhythm Section's Charles Hodges, organ, Clavinet, piano, and Wurlitzer; and Marc Franklin, trumpet and flugelhorn. Guest musicians include Josh Roberts, slide guitar; Brenda Jackson, organ; Lenny Bradford, bass; and Nicholas Stevens, drums.
Collier has written and arranged eight of the eleven songs. "Poisoned The Well" features some funky guitar from Chavez and Collier on flute and piano. Collier's vocal is perfect as she sings about being let down by a friend.
"When It Don't Come Easy" and "Dig A Little Deeper" are about finding the strength to persevere. On the former Roberts is on a resonator guitar, Chavez on an electric and Hodges on organ. The latter features a horn arrangement by Franklin who plays trumpet while Collier is on sax.
Collier states that "Two Parts Sugar, One Part Lime" and "Meet Me Where I'm At" are both "about finding the fun in life and celebrating each day". On the former Hodges switches to piano; while the latter features another horn arrangement by Franklin.
"Cry Out" and "Devil's On the Downside" both feature horn arrangements from Collier. On "Whiskey and Women" guitarist Chavez tears it up.
Roberts plays slide guitar on "When Love Comes To Town" the first of three covers; written by the four members of U-2 it was sung by them and B.B. King and included in his 2012 documentary "The Life of Riley". "You're Gonna Make Me Cry" written by Deadric Malone was a hit single for O.V. Wright in 1965. The last of the covers is Sister Rosetta Tharpe's "Up Above My Head, I Hear Music in The Air" recorded by her and Marie Knight in 1949.
This is only Collier's second album. Her rise to the top has almost been meteoric. She was just nominated for a 2017 Blues Music Award in the category of Best Instrumentalist – Horn with fellow nominees Terry Hanck, Nancy Wright, Sax Gordon Beadle and Al Basile.
Kudos to Collier.
Richard Ludmerer
[amazon_link asins='B01NAYUY7G,B00X0M20V2,B01NAZ5VDS,B01NAYTQMS,B01N9XIL9M,B01N9XFE5Q,B01N7Y5IFN,B01N4TJRFI,B00X0M277Y' template='ProductCarousel' store='maasc-20′ marketplace='US' link_id='a3ee8bee-050e-11e7-8423-6126b7c2f572′]