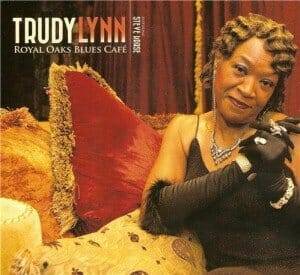 Trudy Lynn featuring Steve Krase
Royal Oaks Blues Café
Connor Ray Music
Trudy Lynn was born Lee Audrey Nelms. In the mid-sixties she sang with guitarist Albert Collins. She began using her stage name soon after. In 1989 she released her debut recording "Trudy Sings the Blues" on Ichiban Records. She recorded five albums for Ichiban before releasing 1999's "U Don't Know What Time It Is" on the Ruf Record label. Her last album was 2006's "I'm Still Here" on Sawdust Alley Records and featured her singing with The Calvin Owens Blues Orchestra. It earned her two Blues Music Award nominations. This new album is her 10th studio recording.
The band for this recording features Steve Krase, harmonica; John Del Toro Richardson, guitar; Eugene "Spare Time" Murray, bass; Randy Wall, piano; and Carl Owens, drums. Additional musicians include Robert "Pee Wee" Stephens, piano; producer Rock Romano, bass; Richard Cholakian, drums; and Terry Day, bass.
Lynn states that this is the first album on which she got to choose her songs. "Confessin The Blues" was written by Jay McShann and recorded by B.B. King in 1965. Lynn's vocal timbre is awesome while Krase and Wall take inspired solos. "Play The Honky Tonks" was a 1952 hit for Marie Adams written by Don Robey the owner of the Duke-Peacock Record labels. "I'm gonna' play the high-class joints, I'm gonna' play the low class joints, I'm gonna' play the Honky Tonks". Lynn isn't one to hold back vocally so this is a real pleasure.
"Country Man Blues" opens with Krase's harp and it features some nice guitar from Richardson. Lynn sings she needs a "man with a whole lot of energy". "I'm Gonna Put You Down" is from Sonny Boy Williamson II but credited to W. Booze. The discovery process also led to Eliose Bennett's jazzy "Effervescent Daddy" and to Clara Smith's sexy "Whip It To A Jelly" both from the late 1920's. Other highlights include "Feel It", "Street Walkin Daddy" and "Red Light".
Lynn has also authored two new songs; "Every Side of Lonesome" and "Down In Memphis". These songs are so good I wouldn't be surprised if one of them resulted in a Song of The Year nomination.
In 2014 Lynn received a Blues Music Award nomination for Traditional Blues Female Artist of The Year (also known as The Koko Taylor Award). Overall she has been nominated for Blues Music Awards a total of five times. Now is her time.
Richard Ludmerer