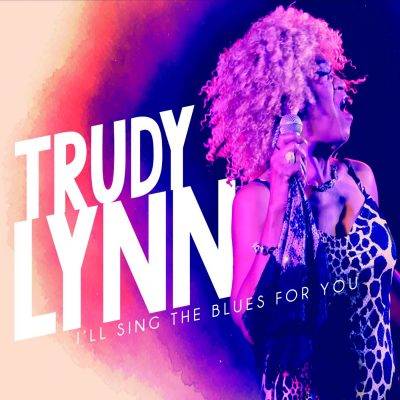 Trudy Lynn
I'll Sing The Blues For You
Connor Ray Music
Trudy Lynn released 2006's "I'm Still Here" recorded with the Calvin Owens Blues Orchestra. As a result she received two 2007 Blues Music Award nominations; one for Soul Blues Album of The Year and one for Soul Blues Female Artist of The Year. In 2014 Lynn released her tenth studio recording "Royal Oaks Blues Café" and received another BMA nomination this time for Traditional Blues Artist of The Year a.k.a. the Koko Taylor Award.
In 2015 Lynn followed up with "Everything Comes with A Price"; and for only the second time Lynn got to select her own material. The album featured older songs sung by blues women some of whom have been forgotten. Many of the songs were about domineering men and prostitution. Lynn again received BMA nominations for Traditional Blues Artist of The Year in both 2015 and 2016. Overall she has 7 Blues Music Award nominations.
The band includes Lynn, vocals; Steve Krase, harmonica; David Carter, guitar; Randy Wall, keyboards; Terry Dry, bass; and Matt Johnson, drums. The album is produced by Rock Romano and recorded at his Red Shack Recording Studio in Houston. Lynn continues to both entertain and educate us.
"Alright Baby" was written by Willie Mae "Big Mama" Thornton (1926 – 1984). It was recorded in 1950 with The Harlem Allstars. Krase's harmonica is the first sound we hear. Lynn's clarity accentuates the lyrics that seem to jump out at you.
"Black Night" was the 1965 comeback single for Lowell Fulsom (1921 – 1999). Carter is featured on guitar. This slower blues is perfect for Lynn's expressive voice. Wall takes a nice piano solo. "Honky Tonk Song" was written by Buck Peddy and Mel Tillis and recorded by Tillis in 1957. "Honky-Tonk'n all night long…the band kept playin' that honky-tonk beat".
"World of Trouble" is from Lizzie Douglas better known as Memphis Minnie (1897-1973). Lynn channels Minnie while Krase and Carter provide the solos. Interestingly it was Bonnie Raitt who paid for Memphis Minnie's headstone in 1996.
"Ramblin Blues" is credited to Mabel Louise Smith a.k.a. Big Maybelle; it is a re-working of a Robert Johnson song. "Still My Angel Child" was written and recorded by Alma Mondy in 1950. She was known as "the Lollipop Mama". Wall's piano intro is fabulous.
"If Its News to You" is from "Little Esther" Phillips who first recorded it in 1957.
"Kissing in The Dark" was written by Ernest Lawlers a.k.a. Little Son Joe who was Memphis Minnie's husband; it was recorded by Minnie in the early 1950's.
"Down On Bended Knee" is from Johnny Copeland. The song appears on his 1981 album "Copeland Special". Interestingly the drummer was Candy McDonald; featured on one track was Brooklyn Slim a.k.a. Paul Oscher. Again Krase is featured on harp.
"Thru Chasin' You" is a Lynn original. The band is hot as Lynn sings "I've gotten over you, found somethin' new". Lynn is a powerful yet expressive vocalist who can also write an original tune that blends well with the vintage material she selects.
The album's title comes from Lynn's daughter who once gifted her mother with business cards that read "Trudy Lynn: I'll sing the Blues for You!"
This is a wonderful album. Lynn is deserving of further recognition.
Richard Ludmerer