2014 Trois-Rivieres en Blues Festival 8/21-8/24 www.3renblues.com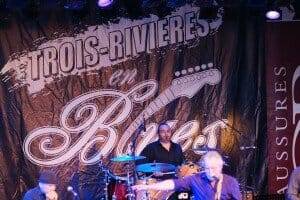 This is the sixth edition of the Trois-Rivieres en Blues Fest, otherwise known as Three Rivers. Trois-Rivieres is located in the province of Quebec, Canada about ninety minutes northeast of Montreal, and approximately seventy-five minutes from the beautiful Quebec City. This special four day event burns and struts for four consecutive days. All of the performances are free. Like previous years this festival offered a mix of Canadian talent and USA bands. From Canada: 418 Blues Caravan, Adam Karch, Bad Boyz Boogie & Friends, Ben Racine Band, D & the Boys, Dan Livingstone, Deno Amodeo, Dawn Tyler Watson, Guy Belanger, Justin Saladino, Louis Janelle Band, Miche Love & Blues Dynamites, Mike DeWay, Jean "Big" Boudreau, MO Blues, Pat Loiselle, Paul Delauriers band, Ria Reece, Rick L. Blues, Steve Strongman and Whisky Legs. The United States was represented by: Dana Fuchs, David Shelley, Otis Taylor, Ronnie Baker Brooks, and Tommy Castro's Pain Killers.
[Best_Wordpress_Gallery gallery_type="slideshow" theme_id="1″ gallery_id="1″ sort_by="order" order_by="asc" slideshow_effect="fade" slideshow_interval="5″ slideshow_width="800″ slideshow_height="500″ enable_slideshow_autoplay="1″ enable_slideshow_shuffle="0″ enable_slideshow_ctrl="1″ enable_slideshow_filmstrip="1″ slideshow_filmstrip_height="90″ slideshow_enable_title="0″ slideshow_title_position="top-right" slideshow_enable_description="1″ slideshow_description_position="bottom-right" enable_slideshow_music="0″ slideshow_music_url="" gallery_name="BluesFest" watermark_type="none" watermark_link="https://web-dorado.com"]
First night Highlights: From south Florida David Shelley's Bluestone set consisted of hard driving and soulful blues with dual guitars, bass and drums and Shelley's powerful vocals, lead guitarist Dave Scott also impressed. More details can be found at: https://www.davidshelleyandbluestone.com The Bad Boyz Boogie group offers a solid mix of rock and blues that scorched throughout their entire set. They now feature a new vocalist; Richard d'Anjou who was in control and captivated the crowd. More info: https://badboyzboogie.com Closing this night was the dynamic and effervescent tour de force Ronnie Baker Brooks who featured a three piece horn section. Like his legendary father (Lonnie Brooks) and his brother (Wayne Baker Brooks) Ronnie is a Chicago blues mainstay. Ronnie's blistering set served up a smart assortment of blues, soul, and percolating funk that had the Three Rivers crowd on its feet dancing the night away. This performance will linger in my mind for many years to come, it was that strong. More evidence can be found at: www.RonnieBakerBrooks.com
Second night: Whiskey legs is: vocalist Maude Brochu, Pascal Denis on drums, Guillaume Methot's guitar, and Louis Fernandez' bass, they charmed the crowd with an entertaining set that called on the varied likes of Brother Ray Charles, Susan Tedeschi, and other rock and soul luminaries. Info at: https://whiskylegs.bandcamp.com Paul Deslauriers is the 2014 winner of the prestigious Maple Blues awards for best guitarist, and took no prisoners on this night of driving rocking blues, and left a lasting impression on yours truly. This PDB unit is a power trio that stands tall amongst Canada's musical elite contemporaries. Additional details: https://pauldeslauriers.ca Tommy Castro's latest edition of his Pain Killers needed their best to top Deslauriers' performance, they did not disappoint blasting their way through a night of mostly rock tunes from their recent recordings. It's taking me a while to enjoy Castro's latest rock oriented band, but I have to admit that they are growing on me. But I miss Castro's horn section and his rhythm and blues soul and funk grooves that catapulted his name to fame. https://tommycastro.com
Night three: I thoroughly enjoyed the 418 Blues Caravan's set with blues veteran Mike DeWay, singer/guitarist Denis Viel, and harmonica player and singer Little Leslie, as these three pros made it look easy as can be with their solid chops and interplay. Unfortunately I could not a find a web site for this superb band. I've seen Steve Strongman several times and he's always exceptional, for this go around he also brought in Guy Belanger to play harp. Strongman delivered the goods in Three Rivers, proving that it is not a surprise as to why he has been a four time Maple Blues Awards winner. More can be found at: https://stevestrongman.com I've always adored Otis Taylor's concerts, his grooves go deep into the roots of blues, yet his band sounds remarkably fresh and contemporary as they continue to attract audiences of all ages. Taylor is definitely a true visionary crafting mesmerizing rhythm's that consistently fascinates, which was (once again) the case on this very evening. Otis is the definitive foundation of this well-polished unit, and I also enjoyed Anne Harris fiddle playing and dance moves, as well as Taylor Scott's explosive guitar bursts. My only disappointment was their missing in action guitarist Shawn Starski who is on temporary leave as his wife just had a baby. Not to be missed the next time the Otis Taylor band comes to your town. Factoids at: https://otistaylor.com
Final night: An excellent performance by veteran singer Dawn Tyler Watson, Watson is extremely gifted as she's able to evoke the jazz spirits of Ella Fitzgerald, but can also growl like Etta James. Previously I've seen this talented lady in duo performances, but I prefer hearing her wail behind a full band as she did here in Three Rivers. Put an asterisk by her name, and check her out in performance when you can. Details at: https://dawntylerwatson.com My final stop was Dana Fuchs band, Fuchs is obviously a very strong vocalist and a tantalizing performer. But after fifteen to twenty minutes, her voice becomes piercing and hard to endure. Anyway see for yourself at: https://danafuchs.com
So there you have it. My third Quebec, Canada musical adventure of 2014, all of them offered high-quality and memorable moments. A lot of this has to do with the Canadian go-to promoter Brian Slack who consistently exemplifies that he knows how to assemble attractive talent that rivals any and all blues based festivals on the planet. Slack is also connected to booking some of the Blues shows at the Montreal Jazz Fest, and the Tremblant Blues Fest, as well as Trois-Rivieres. (By the way the Tremblant International Blues Festival was rightfully honored by the Memphis based Blues Foundation with a Keeping the Blues Alive award in the "International Festival" category for 2013.) Last but not least: I look forward to attending all of these Quebec festivals again in 2015. Until that time keep an eye out for what the Three Rivers Blues Fest has planned for next year at: www.3renblues.com
For fifteen years Bob Putignano has been pivotal at WFDU with his Sounds of Blue radio show: www.SoundsofBlue.com – Previously a senior contributing editor at Blues Revue, Blueswax, and Goldmine magazines, and currently the Music Editor for the Westchester Guardian Newspaper www.WestchesterGuardian.com and now at: www.MakingAScene.org Bob was the 2003 recipient of the "Keeping the Blues Alive" award (given by the Blues Foundation in Memphis) for his achievements in radio broadcasting at WFDU.
Putignano can be directly contacted at: bob8003@yahoo.com