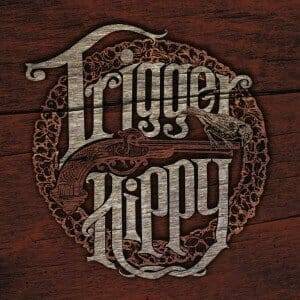 Trigger Hippy
Trigger Hippy
Rounder Records
Steve Gorman, the drummer who co-founded The Black Crowes twenty-five years ago, has started this new band. Gorman has enlisted some impressive talent. Singer Joan Osborne has seven of her own recordings to her credit including her triple platinum 1995 debut "Relish". Singer, guitarist, keyboardist Jackie Greene performed with the Black Crowes during their 2013 tour. Nashville's Tom Bukovac won five consecutive Music Row "Session Guitarist of The Year" awards. Last add in bassist Nick Govrik, who most recently played with Mike Farris; and there you have it, a rock and roll band that can jam.
"Rise Up Singing" opens the album and it is also their first single. The vocal is shared by Greene (who wrote it), and Osborne and it's a great way to kick things off. They sound great together. The fact that they can easily duet is reason to believe that this is the beginning of a long association. The remainder of the songwriting is shared among the members of the band.
"Turpentine" was written by the band when guitarist Audley Freed was still a member. He has since been replaced by Bukovac who takes a nice guitar solo. Osborne sings lead.
"Heartache on the Line" was co-authored by Govrik and Greene and they share the vocal with Oscborne. "Cave Hill Cemetary" was written by the current band lineup but possibly before Bukovac joined.
"Tennessee Mud" was written by Govrik, Greene, Osborne, and Freed. It contains the lyric "tell you what's sweeter than wine and thicker than blood". There is a really nice "bridge" halfway through the song. Bukovac's guitar is on fire. "Pretty Mess" is from Govrik who writes "I get shattered when you're around". "Pocahontas" is from Gorman, Govrik, and Osborne.
"Dry County" is from Bukovac, Govrik, and Osborne, and it is probably the best song on this album. "It's like living in a dry county trying to get a little bit of your love". Nothing New" is from Govrik, Greene, and Osborne.
"Ain't Persuaded Yet" is another of my favorites. It is a collaboration by the entire band with a Beatle-esque production. The album closes with "Adelaide" written by Govrik. It sounds a little bit reminiscent of The Band. I'm not sure whose playing the banjo.
The album is produced by Bukovac with the band. This is an impressive debut.
Richard Ludmerer