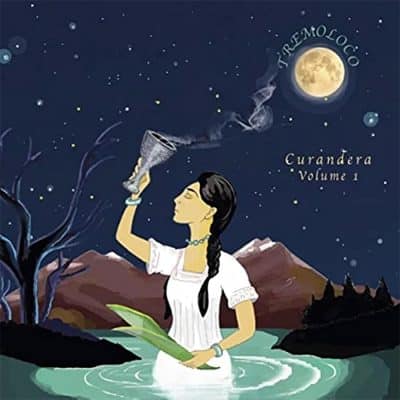 Tremoloco
Curandera Volume 1
Slo Poke
Bandleader Tony Zamora has put together and infectious concoction of what he describes as Gulf Coast, Country, and Mexican music on Curandera Volume 1, and album recorded in two different studios involving seven engineers, and a collective of seventeen musicians who augment the core trio of multi-instrumentalist and lead vocalist Zamora along with keyboardist/drummer/vocalist Cougar Estrada (Los Lobos) and accordionist/vocalist Roberto Rodriguez III. The band is based in Los Angeles and Houston with various contributors ranging in age from 20 to 70. Zamora and Estrade co-produced. Despite the "Volume 1" this is the band's fifth album. They have been mostly regional but there is a push to go national with this release. If you're seeking a one-word term, call it cantina music.
A few things are new here relative to the band's previous recordings. Rodriquez was present throughout the session s rather than merely adding his accordion parts. The album stretched his typically Tex-Mex style into a more rock and roll and blues direction. In an interview with the Houston Press, Zamora says, "That was by design; My idea from the very get go was to combine country, folk and Mexican music together and put a big giant Gulf Coast influence on it."
Zamora is part of the East L.A. scene that spawned Los Lobos, Cannibal and the Headhunters, and Little Willie G and Thee Midniters, among others. He's played with Los Lobos too, and heavy Steve Berlin-like riff that underpins the opening "Mezcal" will undoubtedly evoke that Los Lobos sound. "Dixieland Overland Highway" is a western ballad imbued by pedal steel, accordion, and penny whistle for a unique touch. Maybe this is as good point as any to introduce the guests musicians: Ed Poullard (Cajun fiddle), Padraic Conroy (penny whistle, low whistle), Billy Watts (acoustic/electric guitars), Bob Bernstein (pedal steel), Willy T Golden (lap steel and touring member), Tetsuya "Tex" Nakamura (harmonica, jarana), Jeffrey Paul Ross (electric/acoustic guitars), Richard Bredice (electric/acoustic guitars), and Jacob Rodriguez (drums on "Mexicano"). These musicians appeared for the Austin sessions: Bradley Kopp (acoustic/electric guitars), Marty Muse (pedal steel), Kevin Hall (drums), and Hannah Underwood (vocal). In turn, these are the collaborators for the El Paso sessions: Mike Hernandez (guitar, guitarron, vihuela), Odalis Aguirre (vocal), Eduardo Garcia (violins), and Hugo Hernandez (trumpets).
The emphatic beats behind "Junk Draw" take the story song into rock n' roll territory with Golden slicing hard on the lap steel. Muse's pedal steel and Kopp's guitar back the dulcet tones of Hannah Underwood duetting with Zamora on the classic country "The Man Who Never Cries." "Mas Que Nada" as you likely guessed, sung in both English and Spanish, is straight ahead Tex Mex, evoking that wide open plains sound we associate with Joe Ely or the Texas Tornadoes, among others. Zamora's tremolo guitar and Nakamura's haunting harmonica introduce "One Hand (Beneath a Waning Moon)" as Zamora aches his way through the memory of a lost love.
You might want to dance to the traditional cantina sound Rodriguez and Zamora brings on the celebratory, vocal harmony filled "Sunday Sinners." Bernstein takes a stirring tune on pedal steel to complement Rodriguez's accordion. The band revs up for the fast-paced "Monterrey," another dance floor winner, Tex-Mex style.
Downshifting from that blistering tempo, Zamora contemplates his legacy in the sentimental standout ballad "100 Years (Every kiss in between)" as his emotive vocal rises and falls to the gorgeous blend of pedal steel and accordion. They sing the rollicking "Mexicano" in Spanish, blazing away again with the infectious mix of guitars, pedal steel, fiddle, and accordion while taking a similar path on the waltz "El Paso," an original, not the Marty Robbins song. "Curandero" translated to "healer who uses folk remedies" closes in English lyrics, in a lighter, mid-tempo, piano driven rendering.
As you listen, you'll feel as though you've traveled from the heart of West Texas to the barrios of East L.A., as your radio blared the music from the two infamous border radio stations run by Wolfman Jack. The band and guests deliver a versatile, and at times, highly emotional soundtrack for your journey through the Southwest. While Zamora was tapping into a Gulf Coast influence, this writer's take moves more to the dry, arid, endless horizons of west Texas and the deserts beyond. Maybe your imagery will be different; there's plenty to delve into.
Help Support Making a Scene
Your Support helps us pay for our server and allows us to continue to bring you the best coverage for the Indie Artists and the fans that Love them!
Make a one-time donation
Make a monthly donation
Make a yearly donation
Choose an amount
Or enter a custom amount
$
---
Your contribution is appreciated.
Your contribution is appreciated.
Your contribution is appreciated.
Donate
Donate monthly
Donate yearly
You can donate directly through Paypal!
Subscribe to Our Newsletter