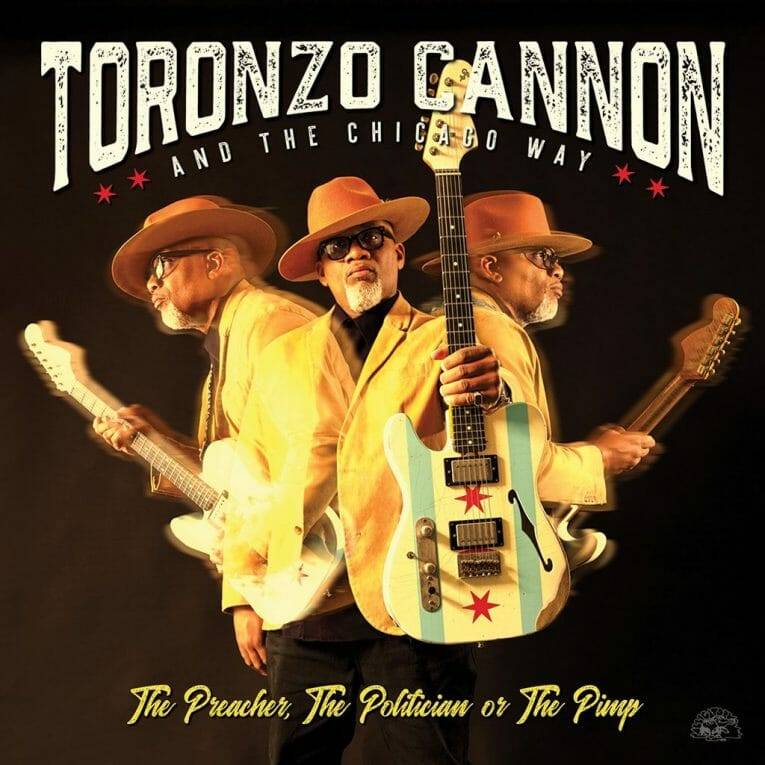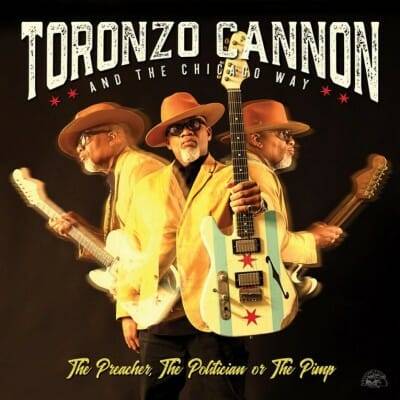 Toronzo Cannon and The Chicago Way
The Preacher, The Politician or The Pimp
Alligator Records
Chicago's Toronzo Cannon was born on the southside in 1968. As a youngster he would sit outside Theresa's Lounge listening to the sounds  spilling onto the street. He purchased his first guitar at the age of twenty-two. The blues guitarist's early influences included Albert Collins and Albert King. Cannon, a Chicago Transit Authority bus driver, worked as a sideman for Tommy McCracken, Joanna Connor and Wayne Baker Brooks. He formed his own band "The Cannonball Express" in 2003 and recorded his debut "My Woman" in 2007. Cannon followed up with two albums for Delmark Records including 2013's Blues Music Award nominated "John the Conquer Root". Cannon released, "The Chicago Way", his first album for Alligator Records in 2016, resulting in four more BMA nominations. Each year for the last three years Cannon has received a nomination for Contemporary Blues Male Artist of The Year. Overall Cannon has seven BMA nominations.
The band includes Cannon, guitars, percussion, and vocals; Roosevelt Purifoy, piano and organ; Marvin Little, bass; and Melvin "Pooky Styx" Carlisle, drums. The album is produced by Cannon and Bruce Iglauer; and recorded and mixed by Blaise Baxton at the Joyride Studios in Chicago.
Cannon has written twelve new originals. He opens with "Get Together or Get Apart" with a searing guitar attack. On the socially relevant title track his playing is rock inspired. "The Chicago Way" includes a blistering guitar solo and features the rhythm section. The topical "Insurance" features Billy Branch on harp and Cannon's humorous conversation with his doctor played by producer Iglauer. My favorite "Stop Me When I'm Lying" sports a New Orleans second line beat, featuring a Professor Longhair styled piano solo from Purifoy, and the horn section of Joe Clark, trumpet; Mark Hiebert, baritone sax; and Chris Shuttleworth, trombone. "The Silence of My Friends" is inspired by Martin Luther King.
Sideman Cannon used to play with Connor and she sits in on slide guitar on "I'm Not Scared" with vocalists Lynne Jordan, Cedric Chaney and Maria Luz Carball. Vocalist Nora Jean is featured in a Stax styled duet on "That's What I Love About 'Cha"; with solos from Cannon and Purifoy. "An Ordinary Woman" is another great song with some jazzy spaced out piano.
Cannon, whose songwriting springs from personal observations, states "It's not about the solos, it's about the songs. People get used to everyday life, so it's easy to miss the things around them. I write about those things. I know the problems of Chicago, the hardship, 'cause we're always a scapegoat. But I choose to love and respect the city because of the Chicago blues giants that came here from down south. I'm proud to be standing on the shoulders of every great Chicago blues musician who came before me."
Cannon is a great songwriter and storyteller. He honors the traditional as he carries Chicago blues into the future.
Richard Ludmerer