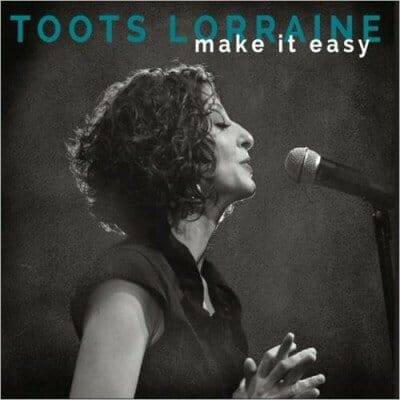 Toots Lorraine
Make It Easy
Independent
Originally from Florida Toots Lorraine and The Traffic released their first cd "Wrapped in Blues" in 2011. For this follow up husband and wife Tyra and Chad Dant decided to record in Campbell, California at Greaseland Studios.
Greaseland Studios belongs to Christopher "Kid" Anderson. Anderson is the guitarist with Rick Estrin and the Nightcats. His relatively new studio recently produced cds by Jackie Payne and Big Harp George among others.
Toots, the former Tyra Bombaci, sings her blues in an older swing or jazz style. Her influences include Ella Fitzgerald, Louis Jordan, B.B. King, and Aretha Franklin. The band however has a more modern sound influenced by the west coast jump blues bands of today. The combination makes this a terrific album.
The band on this recording includes Toots, vocals; Chad Dant, guitar; Lorenzo Farrell (from the Nightcats) piano and organ; Aki Kumar, harmonica; and the rhythm section of Mike Phillips, bass; and June Core, whose credits include The Nightcats and Charlie Musselwhite, drums. The album is co-produced by Chad Dant with Anderson who guests on several of the songs.
For this recording the Dants have co-authored seven original songs including the opening title track "Make It Easy" which features the swinging harp of Aki Kumar, Farrell's organ, and Dant's fabulous guitar lines. "When Did You Stop Tryin", is a lowdown blues, featuring beautiful solos from Kumar and Farrell and an even more passionate vocal from Lorraine.
"Get Back to Lovin" opens with Dant's screaming guitar; Farrell is fabulous on the B-3. "Satisfied" feature Anderson's guitar. "Chad Mo' Shuffle" is an instrumental; Core lays down the foundation for great solos from Dant and Farrell.
Selected covers include Big Mama Thornton's "Let Your Tears Fall Baby"; Howlin Wolf's "Built For Comfort" written for him by Willie Dixon; Big Joe Turner's "Low Down Dog" and "Love The World" co-authored by Jimmy Vaughan and Mac "Dr. John" Rebennack.
Toots also covers the traditional "Wade in The Water" the roots of which date back to the freeing of slaves via the "underground railroad". The words tell the slaves to get into the water so that the dogs would loose their trail. "Wade in the water, children, God's gonna trouble the water". The song was a pop hit for The Ramsey Lewis Trio in 1966.
The bar is set high as the band and overall production are wonderful. Lorraine is a singer with enormous potential.
Richard Ludmerer