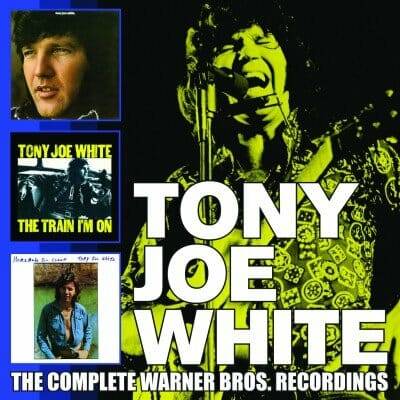 Tony Joe White "The Complete Warner Bros. Recordings" www.RealGoneMusic.com
Tony Joe White's late sixties signing to Monument Records took-off with a series of hits starting with "Polk Salad Annie." The Real Gone label focuses on his subsequent early seventies output for this double disc compilation of the LP's he made for Warner Brothers. Three albums in three years; 1971's self-titled "Tony Joe White," 1972's "The Train I'm On" and 1973's "Homemade Ice Cream." This box-set also includes six rare singles, along with detailed recording data with inclusive notes plus a recent interview with White. There are no smash hits on this forty-song compilation, but it seems that Warner Bros. tried hard bringing in producer Peter Asher for White's WB debut that also added the Memphis Horns and string arrangements. Atlantic Records elite producers; Tom Dowd and Jerry Wexler were brought in for the sophomore release "The Train I'm On." Dowd (without Wexler) returned for '73's "Homemade Ice Cream."
White authored all eleven songs on the Asher produced outing; standouts include the story telling White trudging through the gritty "The Change." The bawdy "My Kind of Woman" is basic and crude – fitting well with its theme. Conversely "The Daddy" is far softer in context and even includes strings exposing a gentle side of Tony Joe, it's a well-constructed song that lures and captivates. More tenderness "I Just Walked Away" with somewhat sappy strings features surprising musical shifts that shuffle along than simmers and broils. The closing "Voodoo Village" stomps hard and utilizes the Memphis Horns to the max with dynamic charts that punctuate this driving romp. The first single: "Lustful Earl and the Married Woman" was the B-Side of "I Just Walked Away" and it's no wonder why it wasn't included on the LP, the two other singles that follow might be rare but sound like demos that are not memorable.
Onto the Wexler and Dowd produced "The Train I'm On" recorded at Muscle Shoals with session musicians Barry Beckett's piano, David Hood's bass, and Roger Hawkins drums – all glow, fit in and elevate Tony-Joe's sound. It feels as though Dowd and Wexler were looking to tinker with White's unique but hard to sell brand, perhaps sensing the potential success for a hit song/record. It opens with the short and catchy "I've Got a Thing About You Baby," that flows neatly with the following "The Family" which is the first tune on this collection that's not authored by Tony Joe. "Beouf River Road" is a bouncy and nifty track that prances along and is propelled by Hawkins interesting drum beats and his Jew's harp that works. The title tune is cute but not captivating. More story telling on the odd titled but funky "Even Trolls Love Rock and Roll." The jammy "As the Crow Flies" cooks in an almost like Allman Brothers fashion with tasty acoustic guitar work. The overproduced "Take Time to Love" (co-authored by White and Donnie Fritts) suffers with lame strings, but the Fritts-Eddie Hinton "300 Pounds of Hongry" simmers yet it's too short to coagulate effectively. The soulful "The Gospel Singer" concludes "The Train I'm On" in a religious like mode that's also haunting with bluesy guitar work, church like piano and a chorus of singers, nice touch but (this too) also fades away too quickly.
On "Homemade Ice Cream" all songs were written by White, and was co-produced by Tom Dowd and White. It kicks-off with the grooving "Saturday Night in Oak Grove Louisiana" with Chuck Berry like chords but it should have extended a little longer as the band was cooking during the (again) too quick fade. The title track is a soft instrumental ballad that's gently introduced by the band with White's understated and tasty harp, it's as sweet as cotton candy and is a delightful little ditty. "Lazy" strolls in as such, and has a JJ Cale bluesy laidback vibe about it. "Backwoods Preacher Man" is another laidback rocker that simmers nattily even though it never completely lifts-off like I thought it would. "No News is Good News" rightfully rocks at pedestrian speeds, note Reggie Young's perfectly positioned guitar fills on this well produced and fine written crafty rocker. "Homemade Ice Cream" closes with "Did Somebody Make a Fool Out of You" with solid acoustic guitar work and jazzy electric guitar interplay that's tantalizing. Three additional "singles; "Sign of the Lion" is funky but it's mildly overproduced (by Chips Moman) with strings. More funk ensues on "Don't Let the Door (Hit You in the Butt)" with an unidentified large sounding horn section no producer credits, yet it's uptown and hip. Lastly "Wishful Thinking" is the finale that should have been omitted; it's also appropriately titled…
The Tony Joe White – Warner Bros. relationship was short-lived (probably) because no notable hits emerged. These three albums were all quirky but are interesting to investigate; they're a snapshot document of White's creative and collaborative accomplishments for Warner Bros. Realistically; these recordings never possessed the components that could ever reach the top of the charts. But these are valiant LP's, though they never attained primetime prominence.
For sixteen years Bob Putignano has been pivotal at WFDU with his Sounds of Blue radio show (Mon. & Wed. 9am-1pm) www.SoundsofBlue.com – Previously a senior contributing editor at Blues Revue, Blueswax, and Goldmine magazines, currently the Music Editor for the Yonkers Tribune www.YonkersTribune.com – www.MakingAScene.org & www.wfdu.fm/Whats-Happening/Bob's Music Reviews/bobs music reviews/ Bob was the 2003 recipient of the "Keeping the Blues Alive" award (given by the Blues Foundation in Memphis) for his achievements in radio broadcasting. Putignano can be contacted at: bob8003@yahoo.com
Bob Putignano: www.SoundsofBlue.com Wed. & Fri. 9am-1pm: http://WFDU.fm Now celebrating 15 + years on the air in the NYC area Music Editor: www.yonkerstribune.com, www.makingascene.org & wfdu.fm/Whats-Happening/Bob's Music Reviews/bobs music reviews/