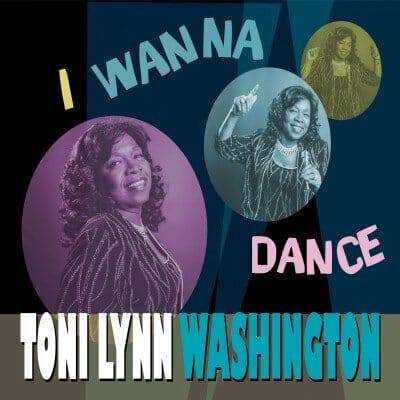 Toni Lynn Washington
I Wanna Dance
Regina Royale Records
Toni Lynn Washington has sometimes been called Boston's Queen of The Blues. During her early career she sang in gospel choirs, entertained our troops as part of Bob Hope's USO tour and was showcased at numerous festivals. Between 1995 and 2000 Washington released three albums on the Tone-Cool label. Washington's last studio recording was 2003's "Been So Long" on Northern Blues Records produced by Duke Robillard and Bruce Bears. Washington has a total of eight Blues Music Award nominations.
The band on this recording includes Wahington, vocals; musical director Bruce Bears on keyboards; Amadee Castenell, on tenor sax; "Sax Gordon" Beadle, on tenor and baritone saxes; Mike Williams, guitar; Jesse Williams, bass, and Mark Teixeira, drums. The horn arrangements are also by Beadle.
Washington opens the album with "I Feel Like a Million". Included are solos from both Bears on piano and guitarist Williams. The whole band jells as both the horn section and rhythm section excel. There are no weaknesses here. Washington's voice still has the expressive clarity that we have become accustomed to. It has been way too long since her last album and although she recently guested on Anthony Geraci's new album one can never have too much of Washington. Although the liner notes report "Writer Unknown" this song appears on the 1962 Sue Records Story sung by Mamie Bradley and the author there is credited as Andy Gibson. Gibson wrote songs for big bands so it might be from him.
Covers include "Mellow Down Easy". Written by Willie Dixon the most familiar version is the one by the Paul Butterfield Blues Band. Washington completely rearranges the song and gives it a New Orleans feel. The tenor sax solo is from Castenell followed by another solo from Beadle on the baritone sax.
In fact all of the covers are given new arrangements by Washington which makes them especially exciting. Included are Buddy Guy's "Leave My Man Alone"; Sonny Boy Williamson's "Checkin' Up on My Baby" and Tracy Chapman's "Give Me One Reason". These are adorned with beautiful solos from Bears and Williams.
Washington also includes two originals; the infectious title track "I Wanna Dance" and "I Can't Get over Losing You". On the later Washington's vocal carries a sensitivity not often duplicated by younger singers. Beadle's horn arrangement is outstanding.
"Somebody's Been Sleeping" includes another great horn arrangement. I would love the Blues Foundation to include awards for "Best Horn Section on a Recording" and/or "Best Horn Arrangements".
Recorded and mixed by Bill Smith; this new recording by Washington is a must to own and highly recommended.
Richard Ludmerer