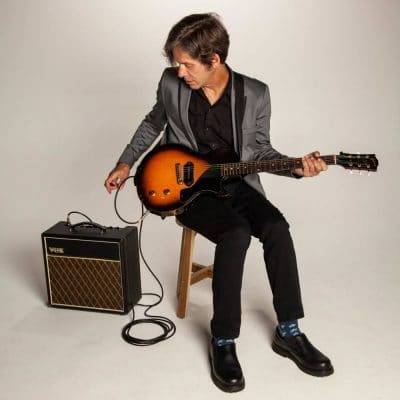 Tim Carroll
Keeping Time
"Keeping Time" is the 2018 release by Tim Carroll and whoever said Rock and Roll is dead or speaks of the demise of the electric guitar, has never been to the longest running residency in Nashville. The "Tim Carroll Rock 'n' Roll Happy Hour" at the famed Five Spot is local legend. Twenty five years into a five-year town (but who's Keeping Time), Tim Carroll is the guy all the cool kids tune to at the start of the weekend.
Tim Carroll is from rural Indiana. He was the rhythm guitarist for the Punk Rock Band The Gizmos in the late 70's. Late 80's into the early 90's found Carroll in New York City in the Roots Rock Band The Blue Chieftains. A Nashville resident since 1993, Tim's songs have been recorded by John Prine, Asleep At The Wheel, BR-549, Robbie Fulks, Kasey Chambers, Bobby Bare Jr., Sunny Sweeney, Sonny Burgess, and many others. Tim has played the Ryman Auditorium and stages all around the country. He can play with anyone anywhere but his star shines brightest in the dive bars of East Nashville. A place where he can make his living playing guitar and sleep in his own bed at night.
Tim Carroll is nothing but a Rock and Roller and "Keeping Time" is a Rock and by god Roll record. Recorded by Dave Coleman at Howard's Apartment Studio in East Nashville. Mastered by Alex McCollough at True East. Produced by Tim Carroll, the musicians on the album are Justin Amaral on Drums, Cameron Carrus and Michael Majett on Electric Bass. Luella contributes Tambourine and Backing Vocals. It's Tim Carroll's searing Guitar and poignant lyrics that combine the better aspects of a Punk Rockers economic and political commentary with the sensibility that reaches deep into the roots of Rock and Roll.
1- I Love You Anyway – …You see in black and white where I see shades of gray. Whether it's day or night I love you anyway. No matter what you do and to my own dismay. I always forgive you, I love you anyway. You nail me to a cross and for your sins I pay. It's not a total loss, I love you anyway…
2- Nothing But A Rock And Roller – … and everything I know I learned it on the street and everywhere I go it's on my own two feet. Nothing, nothing but a rock and roller…
3- That's Your Teacher – …Whatever annoys you and won't go away. The words that you wish you had thought of to say. You're just a protegé. That's your teacher. What you don't want to hear being told straight to you. Face your own worse fear what you don't want to do. Every new place that you're going to. That's your teacher…
4- Williamson County Jail – …. I'm asking for a friend, how can it be that the richest county in the state of Tennessee could have a jail that would fail any test of common human decency….
5- Keeping Time – … Daylight breaks, I lie awake, how long it takes, keeping time. The mailman comes, the whiskey numbs, the guitar strums, keeping time. The church bell rings, the choir sings, I hear these things, keeping time….
6- Ted Sweatt – …the state high jump champ and star at basketball, forever hero of Wiley High, his name is on the wall … in Washington DC at the national mall go there and you'll see, his name is on the wall…
7- Turns To Gold – …everything I touch turns to gold… *note the sarcasm
8- Only A Player – …he says he loves you, been thinking of you, he only calls you, when something falls through, only a player…
9- I Want To Be Free – …I got bills to pay, laws to obey, people to impress, sins to confess. I want to be free of all these things holding me, but how can that ever be? I want to be free…
10- Viking – …at my Highschool we were called the Vikings, the West Vigo Vikings. I never knew where that nickname came from, but it rolled off the tongue…
Witnessing someone who is new to a Tim Carroll performance is a thing of beauty. One favorite memory was watching Marshall Chapman become expressively awed at Tim's performance at the famed Bluebird Cafe in Nashville. They were both in a songwriters round, (where you gather prominent songwriters, sit them in a circle, and have them take turns singing their songs). Tim played his first song in the round and Marshall sat up straight in her chair and took notice. By the second song she was on the edge of her seat holding her mouth open. Yes, Tim Carroll made a lifelong fan that night. If you've read this far and you've listened to the music you're becoming a lifelong fan too. Welcome to the club.
– Viola Krouse
[amazon_link asins='B07FKCRKGM,B009XHE7VE,B000068Q01,B01KIKEVR4,B0088QYRRA,B00005Q359′ template='ProductCarousel' store='maasc-20′ marketplace='US' link_id='92f45d2d-c12c-11e8-abbe-2564f431b8f8′]