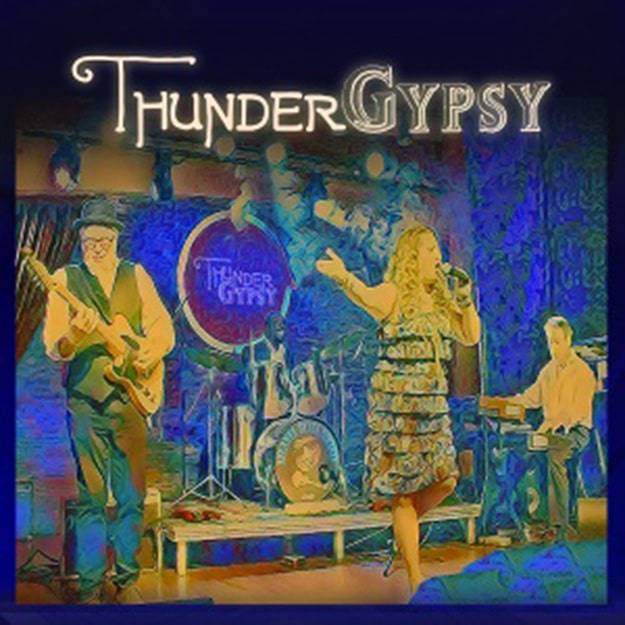 ThunderGypsy is the group chosen at the Atlanta Blues Challenge sponsored by the Atlanta Blues Society to represent the city at the International Blues Challenge 2018. They have a new CD out, produced by Richard L'Hommedieu at Midnight Circus Studios, and it is phenomenal. They won the unlimited studio time as a prize for winning the challenge and they took advantage of it masterfully!
Heather Statham, the vocalist, has a strong, clear voice that is a pleasure to hear, and the band backing her up are highly skilled. Ken Williams on drums and Richard Price on guitar really know their stuff, but for me, it is Statham and Paul Allison on keys who really adds sparkle to these songs.
And what songs they have chosen! The CD opens with "Chasin' the Miles," a road song that opens with the organ and then serves as a strong introduction to Statham and the rest of the band. It is followed by a highlight of the recording, an absolutely stunning version of "Don't Think Twice, It's All Right," a Bob Dylan song I have loved since the first time I heard Dylan sing it many years ago. Yet here, Statham and the rest of ThunderGypsy make it sound fresh and new and riveting all over again.
"Don't Cry To Me" begins with mellow horns and then continues with Statham proving she can do a heartbreaking ballad as well as the best crooners, with drummer Williams providing a soft, persistent beat and the rest of the band keeping it appropriately understated in the background.
Picking up the pace again, Statham gets into the gospel-flavored "The River," which will make you want to raise your hands and shout. Quieting things down again, we get the contemporary blues of "Turn On the Bright Lights," showing this group can do this style well, too. Statham's voice has just enough of a rasp on the chorus to convey the emotion. "New Secrets" continues the contemporary mode and allows Price to show off some tasty guitar along with the organ.
Returning to a familiar favorite, the band delivers the smooth gospel of "People Get Ready," with marvelous organ solos and that effective drumming from Williams as well as that perfect vocal. It is followed by "Anyday," with Statham seeming to channel Tina Turner and more great organ and mellow guitar solos.
Fearlessly, the band then takes on "St. James Infirmary," one of the most spine-chilling blues songs ever written, and they do a beautiful job of it. Then they finish off on a blues romp with "I Don't Need No Doctor."
This CD proves that ThunderGypsy is a force to be reckoned with and that you need this in your collection. They can handle a variety of styles with ease and Atlanta can be proud to have them represent the city, but no matter what happens with the Challenge, this is a CD to savor.