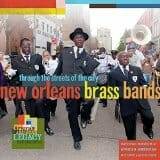 Through The Streets of the City
New Orleans Brass Bands
Smithsonian Folkways Recordings
This is the newest album from Smithsonian Folkways' African-American Legacy series. Included is a 34 page booklet authored by Dr. Michael White. He is a jazz music historian but also a clarinetist, composer, bandleader, producer and educator. He has six albums under his own name on Basin Street Records and appears on numerous other recordings.
Dr. White tells us that that the 1890's brought New Orleans a cultural need for "celebration fused with the social intensity of the local black struggle for freedom and equality". He states the result was jazz. Jazz was characterized by "democratic ideals such as free expression, equal participation and the blending of diverse musical and cultural ideas" and the result was collective improvisation. In brass bands this meant; three trumpets to maintain the melody, two trombones punctuating the rhythm, a clarinet dancing freely, two lower brass instruments playing harmonic rhythm phrases, a sousaphone for the basic oompah rhythm, a snare drum playing rolls, and a bass drum for the parade beat.
Dr. White tells us about the history of brass bands and about two of the most important brass bands. In 1970 Leroy Jones formed the Hurricane Brass Band, and in 1977 drummer Benny Jones and several ex-Hurricane members formed the "Dirty Dozen". The groups sound was a modern update. Then in 1982 the Frazier brothers and Kermit Ruffins founded "The Rebirth Brass Band".
Three brass bands are heard on this recording. In 1985 Dr. White founded the traditional styled "Liberty Brass Band" to perform for festivals and private parties. Its membership included veterans and descendents of jazz families such as Gregory Stafford, Wendell Brunious, Lucien Barbarin and Dr. White himself. They perform "Paul Barbarin's Second Line", the "Old Rugged Cross", the "Liberty Funeral March" and three others. Performing at funerals is a well known brass band custom.
In 1991 in an effort to remain home and not on the road, Benny Jones of the Dirty Dozen's formed the "Treme Brass Band". The band has had several appearances on the HBO television series "Treme". They perform "The Sheik of Araby" inspired by the Rudy Valentino film and it's a showcase for Kenneth Terry's vocal; Hugh Masekela's 1968 classic instrumental "Grazing in the Grass"; the traditional "Amazing Grace"; and two more.
The Hot 8 Brass Band might be the most modern. Listen to the popular "Keepin It Funky". Three others are included.
Since the New Orleans Jazz and Heritage Festival began they presented brass bands both in parades and on their stages. The popularity of brass band music continues to grow. This album is a great addition to anyone's music library.
Richard Ludmerer