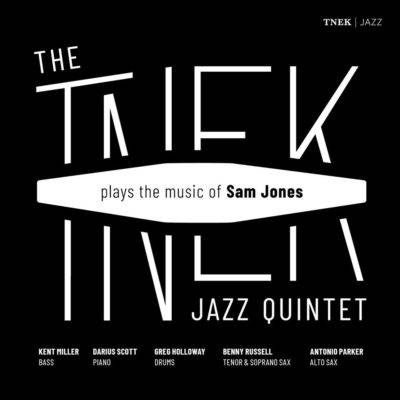 The TNEK Jazz Quintet
Plays the Music of Sam Jones
TNEK Jazz
If you're familiar with the music of Cannonball and Nat Adderley and their soul-jazz albums from the '60s and '70s, chances are that you know the bassist/composer Sam Jones. Jazz fans in general are likely familiar with the name as he was a sideman on many sessions, but they may not recognize Jones' contributions as a composer. Jones is a musician's musician but leave it to the TNEK Jazz Quintet to bring Jones' songs to the forefront on this straight-ahead/soul-jazz session. The members are Kent Miller (bass), Darius Scott (piano), Greg Holloway (drums), Antonio Parker (alto saxophone) and Benny Russell (tenor and soprano sax). Note there is no trumpet to fill Nat's spot but there are two horns to carry the melodies and grooves.
We'll provide some background on Jones before getting to his music. Jones lived from 1924 through 1981, passing at the early age of 57. He is the cousin of bassist Al Hall. In addition to working with Cannonball, he worked with Oscar Peterson, Bill Evans, and Cedar Walton (all pianists). Jones was influence by some these renowned bassists of the twentieth century – Jimmy Blanton, Ray Brown, Oscar Pettiford, Al Hall, and Milt Hinton.
As a composer Jones wrote intricate horn lines. Take "Bittersuite," essentially a blues, but that form is practically unrecognizable due to the vigorous interaction of the two saxophonists. The horn lines and bass interplay on "O.P.," "Del Sasser," "Lillie," "Some More of Dat" and "Tragic Magic" (by Kenny Barron) all are notable for these horn plays and stellar bass lines, played exceptionally well by Miller. The opener "Unit 7," was used by Cannonball as an unofficial theme song. It's the essence of soul jazz and should prompt you to seek out the original with Cannonball and Nat. The saxophonists are channeling Jimmy Heath and Cannonball in their rendition.
Jones wrote with lines and riffs akin to a big band, allowing these soloists to shine. The first three track ("Unit 7," "Bittersuite" and "Some More of Dat") swing in the best tradition of the originals while "Lillie" proves the quintet can emotively deliver a ballad tenderly with great spots from Parker's alto, Russell's soprano. Scott's piano, and, of course, Miller's double bass. Parker's lyrical also playing on "Del Dasser" is remarkable, setting the stage for Russell to take an equally explosive journey on the tenor. They close with the Barron tune, "Tragic Magic," one that's in a bebop/ hard bop mode and allows the horns to again powerfully swing in solos, melody and counterpoint, and ensemble blowing.
Each of these musicians have impressive resumes with some playing in pop and R&B as well as jazz, some are bandleaders and/or composers. Scott, Parker, and Holloway are all mainstays in the D.C./Baltimore jazz circles while Miller and Russell work mostly in New York.
Again, get acquainted with the music of Sam Jones and revisit those great echoes of Cannonball and Nat through this set of inspired jazz.