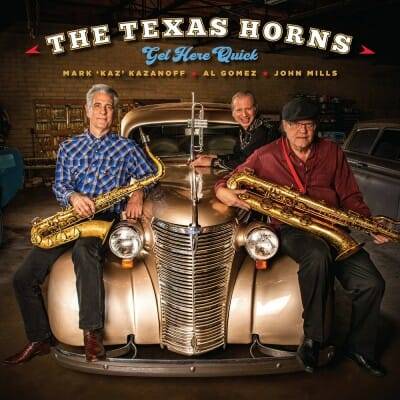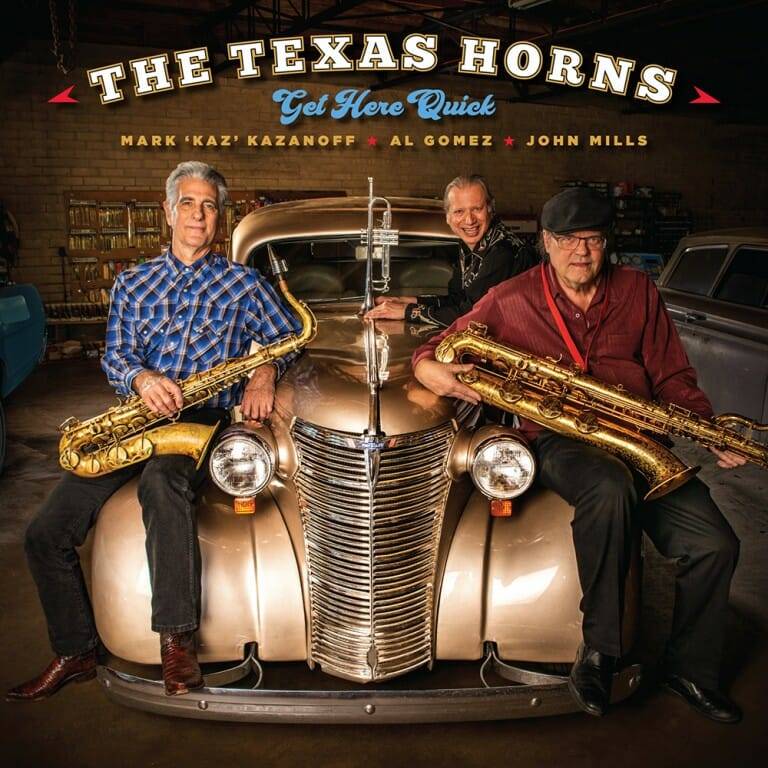 The Texas Horns
Get Here Quick
Severn Records
Tenor saxophonist Mark "Kaz" Kazanoff has played on approximately 200 recording sessions starting out in the 1980's on Blacktop Records. He appears on albums by Earl King, Marcia Ball, Anson Funderburgh, Ronnie Earl, and many others. He played on 1999's "Lone Star Shootout" with guitarists, Lonnie Brooks, Long John Hunter and Phillip Walker; also on that album was John Mills playing baritone sax.
Trumpet player Adalberto Gomez was a member of Doug Sahm's "Last Real Texas Blues Band" and appears on their 1994 self-titled album along with Kazanoff. Mills, Gomez and "Kaz" began calling themselves The Texas Horns and appearing on albums as a unit in 1999.
After many years of backing up others the horn section stepped forward to record their own debut "Blues Gotta Holda Me" in 2015. This is only the second album in their name. They are backed by an all star group of musicians including a couple of different rhythm sections, and some well known vocalists and guitarists.
Collectively The Texas Horns are the best horn section in the business but as songwriters they work alone. Kaz contributes five songs including two instrumentals, the title track "Better Get Here Quick" and "Funky Ape". The Horns are aided by Johnny Moeller, guitar; Red Young, keyboards; Chris Maresh, bass; and Tommy Taylor, drums. "You Can't Be Serious", features Kaz taking a vocal, and guitarists Moeller, Derek O'Brian, and John Del Toro Richardson. John Nemeth is guest vocalist on "Love Is Gone". Carolyn Wonderland, lead guitar and vocal, is featured on "I'm Doin' Alright, At Least For Tonight".
Kaz says that Mills "has turned into a wonderful arranger and songwriter" and Mills has written four songs. "Guitar Town" features a vocal by Guy Forsyth. The wonderful "Sundown Talkin'" features the emotive voice of Curtis Salgado, and bassist Russell Jackson from The B.B. King Blues Band. Also from Mills are two instrumentals "Feelin' No Pain" and the closer "Truckload of Trouble" with guitarists Ronnie Earl and Denny Freeman, and Nick Connolly on keys.
"2018" form Gomez is a New Orleans instrumental for the ages. The Horns are completed by Moeller, Connolly, Maresh and drummer John Bryant. Gary Nicholson is both guest writer and vocalist on "Fix Your Face" and "Soulshine".
Kaz adds "we challenged ourselves, first and foremost, to create all original material, and to do things that really represented who we are as a horn section and as creative musicians. We wanted to find out what we could be as a horn section but also as song writers and arrangers. We also wanted to make music that, though obviously still blues based, was more contemporary, and might stretch our vision of what we could do, as well as challenge our listeners with songs that were new and unique and more modern".
The Texas Horns "Get Here Quick" succeeds on every level.
Richard Ludmerer