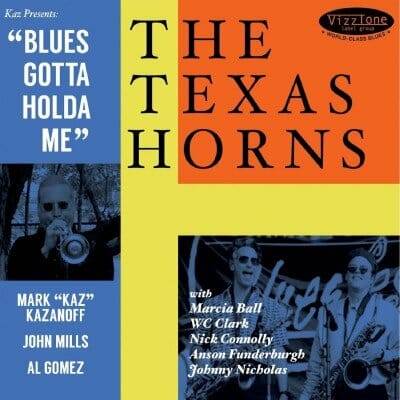 The Texas Horns
Blues Gotta Holda Me
Vizztone Records
Mark "Kaz" Kazanoff, John Mills, and Adalberto Gomez starting calling themselves The Texas Horns in 1999. They began backing up artists and appearing on albums as a unit and also took appearances at festivals. But they also played together before becoming a unit.
Kazanoff has appeared on over 130 albums. In 1984 he appeared on Marcia Ball's "Soulful Dress". In 1985 he began appearing on Ronnie Earl's albums sometimes alongside Greg Piccolo and Doug James. In 1999 Kazanoff played on the "Lone Star Shootout" album with guitarists Lonnie Brooks, Long John Hunter, and Phillip Walker. Also appearing on that album were Mills, Derek O'Brien and Barry "Frosty" Smith.
Gomez was a member of Doug Sahm's "Last Real Texas Blues Band" and appears on their 1994 self titled album with both Kazanoff and O'Brien. In 1997 Gomez toured Europe with that band. So it's no surprise that Kazanoff, Mills and Gomez got together.
For this new recording the band consists of Kazanoff, tenor sax; Mills, baritone sax; Gomez, trumpet and flugelhorn; O'Brien, guitar; and Smith, drums. Nick Connally, piano and organ, appears on nine of the twelve tracks. Bassist Ronnie James appears on six of them.
Kazanoff has composed five new songs for this album. The opening track "Soul Stroll" features guitar solos by both O'Brien and Anson Funderburgh. On "Cold Blooded Lover" W.C. Clark takes the vocal while Kaz plays the harp and Johnny Bradley sits in on bass. "Rippin and Trippin'" features Danny Levin on piano; the title track "Blues Gotta Holda Me" was co-written with pianist Johnny Nicholas; and the instrumental "Spanky's Twist" features great organ from Connally and Kazanoff, Mills and Gomez each take superb solos.
Mills has contributed "Kick Me Again" with Levin on piano. On it Mills takes a nice baritone sax solo.
Selected covers include Dave Bartholomew's "Go On Fool" with vocal and piano from long time friend Marcia Ball. Curtis Mayfield's "People Get Ready" with a horn arrangement from Mills; Earl King's "Sing, Sing, Sing"; and "Caldonia" popularized by Louis Jordan in 1945.
We seldom get to hear a horn section where the trumpet and saxes harmonize like they do here. The Texas Horns are among the very best.
Richard Ludmerer