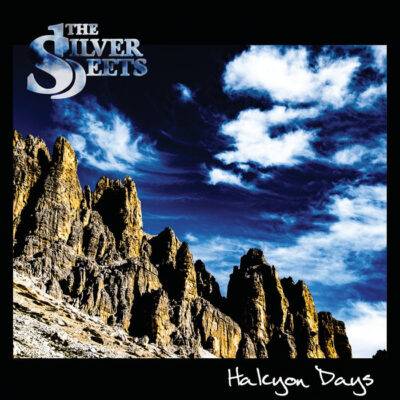 The Silverbeets
Halcyon Days
Independent Release
Today I have the honor to make a review about the brand new album from "The Silverbeets"
The Band:
Farnz Cordeaux – rhythm guitar, vocals, keys
Nigel Hope – bass
Ernie Oppenheimer – keys, synth
Konrad Park – drums
Kevin Barker – trombone
Billy O'Brien – drums
The Silverbeets are a band based in Hobart Tasmania, a small Australian island state formed in 2014. Far from the rest of the world, they created their very own sound. In 2016 they released their debut EP "Purple Stems", followed by the LP "Stay Tuned" in 2018. Both were rated among the years best new releases by the NBT Music Radio. 2020 "I've Got To Get Away (On An Hawaiian Holiday) came out, a critical song about the government leadership and how they handle the fires in Australia.
And now "Halcyon Days", an EP that is as varied as I've rarely heard. Every song is different and brings different moods to the listeners. Even after listening to it several times, it never gets boring. An album with a kick, upbeat and fresh, interesting and serious but just as funny. In short, this is how music should be!
The Album:
"We Mattered( Once Upon a Time)", great start to the album with catchy lyrics and a great melody and I love the chorus and the emotions that the song brings over first class.
"Cool, like David Suzuki", something completely different to the first song and simply great. It reminds me a bit of The Sweet in the 70s, a psychedelic sound and great drums, just cool!
"Girlfriend", awesome track, spoken word and the melody makes it sound kinda mysterious, a song about relationship and how it could work or just not.
"You Still Look So Beautiful", a love song that makes you feel good just by listening.
"Unnatural Selection", starts with howling wolves and a kinda dark undertone, the guitar work is brilliant.
"Never Trust The Government ", critical song about government and society, I like the way it is sung, quiet and without any loudness but haunting in every way.
"Sexy Ted", again something different,a jazzy note paired with rap vocals, cheeky lyrics, what a great song!
"One Melody", and what a melody…impossible to sit still while listening, a tune that goes straight into your ear, stunning vocals and one of my favorites on the album.
Help Support Making a Scene
Your Support helps us pay for our server and allows us to continue to bring you the best coverage for the Indie Artists and the fans that Love them!
Make a one-time donation
Make a monthly donation
Make a yearly donation
Choose an amount
Or enter a custom amount
$
---
Your contribution is appreciated.
Your contribution is appreciated.
Your contribution is appreciated.
Donate
Donate monthly
Donate yearly
You can donate directly through Paypal!
Subscribe to Our Newsletter