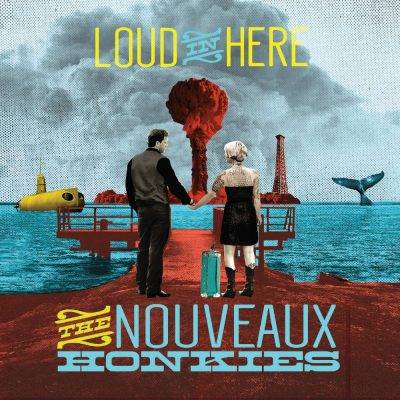 The Nouveaux Honkies
Loud In Here
Independent
The Nouveaux Honkies are Tim O'Donnell and Rebecca Dawkins. This is there fourth full length recording but their first album was strictly blues and is long out of print. The Americana duo has since made their mark with three albums which they prefer to call Honky Tonk Country. They meld jazz with blues and country sensibilities inspired by everyone from Hank Williams to Loretta Lynn and Willie Nelson. 2008 saw the release of "Where Do I Go" and it was as "if Johnny Cash and Freddie King had a baby".
In 2014 The Nouveaux Honkies left their South Florida home in Port Salerno to travel West stopping long enough in Dripping Springs, Texas to record their last album 2015's "Blues For Country" hailed by No Depression Magazine as "a bubbling Americana gumbo of blues, country and Texas swing".
The duo returned to "The Zone" recording studios in Dripping Springs just west of Austin to record this new album. O'Donnell, guitars, Mandola, Rhodes piano, bass, drums and vocals; and Dawkins, violin and vocals; are joined by friends they met while making their mostly original music. Their band is rounded out by Nate Rowe, double and electric bass; and Pat Manske, drums and percussion. Special guests include guitarist Bill Kirchen (who got his start playing lead on Commander Cody's "Hot Rod Lincoln"), Ephram Owens (currently with The Tedeschi Trucks band), trumpet and flugelhorn; and Lloyd Maines (Grammy award winning producer), pedal steel.
Eight of the ten songs were written or co-written by O'Donnell. "Will and Faith", "Big Heart, Hard Head" and "The Glades" feature the whole band with Kirchen sitting in on the first two. Maines' plays steel on "Heart Can't Live Here". There are also two fabulous covers Jimmy Webb's "Wichita Lineman" popularized by Glenn Campbell; and "You're The Reason Our Kids Are Ugly" a 1978 single for Loretta Lynn and Conway Twitty.
The Nouveaux Honkies have a cult following in South Florida. They thank their fans that support them whenever they perform. They also thank the venues where they perform especially Terra Fermata and Crabby's for their weekly residencies. It's impossible to get too much of the good times generated by them.
Richard Ludmerer
[amazon_link asins='B07BHY39YB,B017KHJ2M2,B0015KOYPQ,B07BHXPSX1,B07BHYGPXV,B07BHY69F5,B07BHY5ZF7′ template='ProductCarousel' store='maasc-20′ marketplace='US' link_id='851bcc5f-7bf7-11e8-9ca4-871d683da3ef']